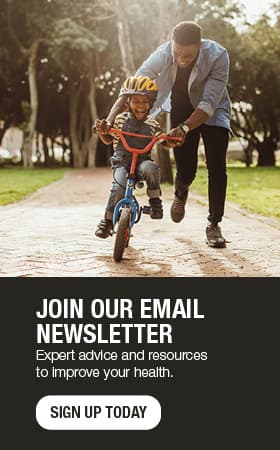 Grocery store tour: Shopping the produce aisle
Seeing colors or just shopping in the produce section? Vitamins and minerals are expressed through color, and fruits and vegetables have plenty of those. Although many items in the produce section grow in the soil, they really are clean foods, meaning they're low in sodium, fat and cholesterol, and have few added preservatives. Fruits and vegetables also are full of fiber and help keep you feeling fuller longer to add more benefit to you.
You should eat 5–7 servings of fruits and vegetables each day, which can be difficult. To accomplish that goal, try eating a variety of colors to ensure you're getting a variety of nutrients. Leafy vegetables are fillers, adding bulk and water to your meals. More starchy vegetables, such as peas, green beans, carrots and corn, have more carbohydrates, which doesn't mean you shouldn't eat them, just less of them. There are many different ways to prepare your fruits and vegetables to ensure you're getting the recommended amount on a daily basis, and sometimes it takes trying them more than once to start to enjoy them — even for adults.
Watch health educator Katie Johnson as she takes you through the produce aisle and tells you what you might not know about your fruits and vegetables:
Watch other grocery store tours: