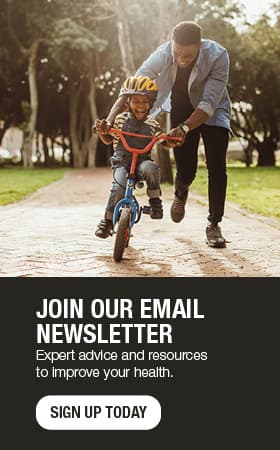 Diet, humor and a cancer journey
A cancer diagnosis is life-altering for patients, families and caregivers. Each fall, the Annual Lloyd & Ardis Peterson Cancer Symposium is held to help those affected by cancer. This symposium is made possible through a sponsorship from the Lloyd and Ardis Peterson Family Foundation.
The fall 2021 symposium's theme was "Diet, Humor and a Cancer Journey."
Rose Prissel, a Mayo Clinic dietitian, presented "Diet and Cancer," discussing several nutritional aspects related to cancer, including:
Tips to help caregivers better care for a loved one who is experiencing eating-related difficulties due to cancer or treatment
Unintentional weight loss, poor appetite, shortness of breath, dehydration, improving nutritional intake, meal size and frequency, and avoiding nausea and constipation
Keynote speaker Brenda Elsagher, author, certified humor professional and colorectal cancer survivor, presented "Life, Lessons and Laughter," a humorous account of her personal cancer experience.
Brenda was diagnosed with colorectal cancer at 39. At that time, she was a mother of a 5-year-old and a 3-year-old, and had been married for six years. No one in her family had ever had cancer, and she doubted that she had cancer.
In October 1995, she went to the doctor for a pain in her butt. She thought she had hemorrhoids.
While she says that nobody wants to have their butt checked, it's important if you have a pain in the butt. The first doctor looked and said there was a hemorrhoid, and that maybe another doctor should take a quick look. Brenda wanted a second opinion, and this doctor thought it could be a tumor and wanted to perform a biopsy.
During the rectal exam, she said to the doctor, "It's kind of a gross job you got there." He replied, "It might be gross, but it saves lives."
When she was diagnosed with cancer, she came up with two goals:
Go to college (and she still hasn't graduated)
Become a comedian (so she took a comedy course)
She then entered the Twin Cities Funniest Person Contest, where 150 people tried out. To her surprise, she won the contest.
She notes that during her 20 years as a hairstylist, no one had talked to her about having pain in his or her butt, or Crohn's disease, ulcerative colitis or bowel diseases. People talk about breast cancer, but not about the importance of colonoscopies.
After a seven-hour surgery and having her insides rearranged, Brenda says she has learned a lot about how humor has affected her cancer journey.
Learn about the rest of Brenda's inspirational account of her cancer journey by watching the symposium:
Cancer services are available at Mayo Clinic Health System in communities across the Midwest.
Mayo Clinic Health System thanks the Peterson family for their continued generosity to provide cancer education.