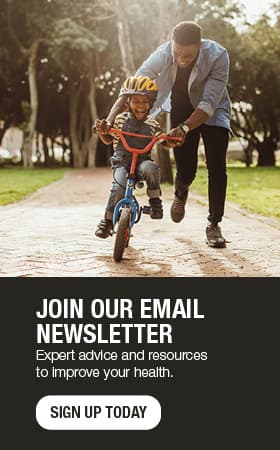 Check out chickpeas for year-round healthy eating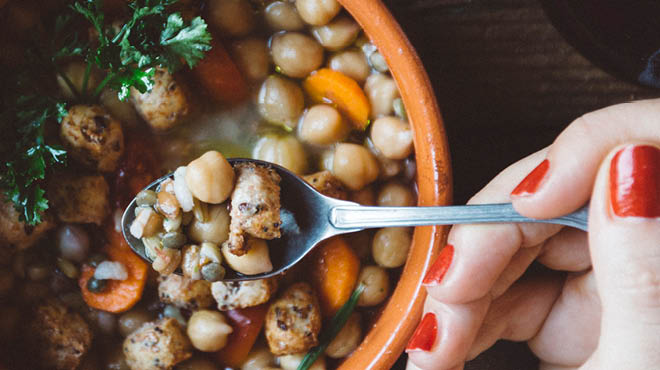 If you're interested in learning more about plant-based proteins or a whole-food eating plan, check out chickpeas. Also known as garbanzo beans, chickpeas may not be as familiar to you as other legumes, like black beans and green peas. They're a nutrient powerhouse, budget-friendly protein and versatile choice for year-round healthy eating.
Naturally low in saturated fat, loaded with nutrients
Nearly three-quarters of Americans exceed the daily recommended amount of saturated fat, much of which comes from animal-based proteins, such as beef, pork and full-fat dairy products. One of the best ways to lower saturated fat intake is to add more plant-based proteins, including chickpeas, to your diet.
While naturally low in saturated fat, chickpeas are nutrient-dense. They provide nearly 20 grams of protein in a ½-cup serving and 5 grams of dietary fiber. Chickpeas also are a source of folate, iron, vitamin C and phosphorus.
Budget-friendly, easy to prepare
Aside from being a nutritional powerhouse, chickpeas are relatively inexpensive and easy to prepare. If you buy them canned, rinse them in cold water to remove excess salt.
You also can buy dried chickpeas. There are two simple ways to rehydrate them:
Rinse the chickpeas, place in a large pot and cover with 3-4 inches of cold water. Cover the pot and let stand overnight. Drain.
Fill a large pot with water, add the chickpeas and bring to a boil. Cook for 45 minutes to an hour, stirring occasionally and adding water as needed. Drain.
Keep in mind that chickpeas double in size when rehydrated.
Year-round versatility
Chickpeas are found in many cuisines. Stir them into soups, stews and pasta dishes, toss in salads or puree for a healthy appetizer.
These three recipes from Mayo Clinic showcase the year-round versatility of chickpeas:
Homemade hummus
Serve as a dip or side dish, or add to sandwiches or salads. Change up this basic recipe with sun-dried tomatoes, cumin, garlic or roasted red peppers.
Makes 14 1/4-cup servings
2 15-ounce cans of chickpeas, drained (reserve ¼ cup of the chickpea liquid)
1 tablespoon extra-virgin olive oil
3 tablespoons of tahini (sesame paste)
Add chickpeas and olive oil to a blender or food processor, and puree until smooth. Add tahini and mix well. Add reserved liquid as needed until the mixture has the consistency of a thick spread.
Nutrition for ¼ cup: 88 calories, 4 grams total fat, less than 1 gram saturated fat, 9 grams carbohydrates, 3 grams fiber, 4 grams protein
Gazpacho with chickpeas
This soup is served cold and makes the most of fresh summer veggies.
Serves 6
1 15-ounce can chickpeas, rinsed and drained
6 cups unsalted vegetable juice
1 cup (about 16) cherry tomatoes, quartered
½ cup chopped, seeded cucumber
¼ cup chopped, red onion
¼ cup chopped, fresh cilantro or parsley
¼ teaspoon hot pepper sauce
1 to 3 garlic cloves, minced
¼ cup lime juice
6 lime wedges
In a large bowl, add the chickpeas, vegetable juice, tomatoes, cucumber, onion, cilantro, hot pepper sauce, garlic and lime juice. Stir well. Cover and place in the refrigerator for at least 1 hour or until well-chilled. To serve, ladle the cold soup into chilled bowls and garnish with a lime wedge.
Nutrition for 1 1/2 cups: 125 calories, 24 grams total carbohydrates, 5 grams fiber, 156 milligrams sodium, 1 gram total fat, 7 grams protein
Linguine with chickpeas and arugula
Arugula is a peppery, tart, leafy green popular in Italian dishes.
Serves 4
6 ounces whole-grain linguine or spaghetti
1/2 tablespoon olive or canola oil
1 cup fresh or frozen stir-fry vegetables (onions and green, red and yellow peppers), chopped
3 cloves garlic, minced
1 15-ounce can unsalted garbanzo beans, drained
1/4 teaspoon crushed red pepper
1 lemon, juiced and zested
1 cup shredded Parmesan cheese
4 ounces (about 4 cups) arugula or baby spinach, coarsely chopped
Cook linguine for 5 minutes in boiling water. Drain, reserving 2 cups cooking water. In a large skillet, heat oil over medium-low heat. Add stir-fry vegetables and garlic. Cook for 3 minutes. Add the pasta, cooking water, chickpeas, crushed red pepper, lemon zest and lemon juice to skillet. Cook for about 5 minutes or until the pasta is al dente. Remove pan from heat and stir in cheese and arugula or spinach. Toss to combine until greens are wilted.
Nutrition for 1 1/2 cups: 374 calories, 51 grams carbohydrates, 20 grams protein, 9 grams fiber, 10 grams total fat, 459 milligrams sodium
Caitlin Terpstra is a dietitian in Nutrition in Owatonna, Minnesota.