Posted By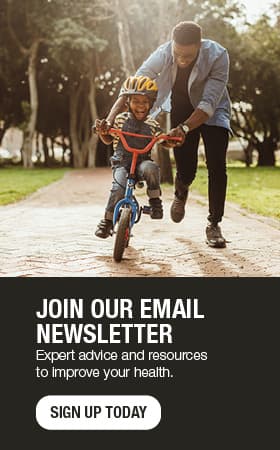 Celebrate Cinco de Mayo with lighter versions of popular dishes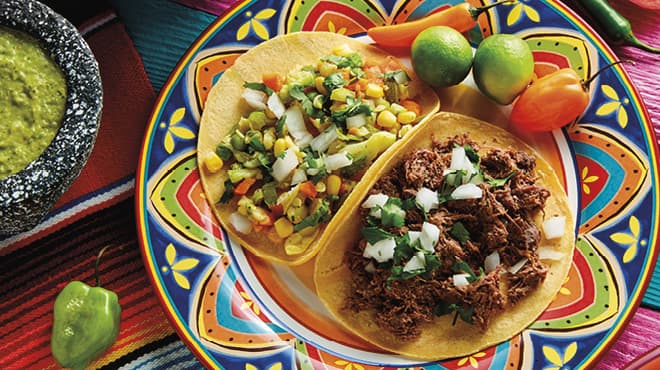 Cinco de Mayo, the fifth of May, is a celebration of the Mexican army's victory over the French at the Battle of Puebla in 1862 during the Franco-Mexican War. In the U.S., many people celebrate with Mexican-inspired foods and drinks.
Here are some tips for enjoying dishes that are lighter on the calories and sodium, compared to popular restaurant dishes:
Turn up the spices.
Enhance the flavor of your dishes with traditional spices, chilis, herbs and citrus juice rather than salt.
Common herbs and spices that you may be familiar with include:
Chili powder
Cumin
Fresh or dried cilantro
Coriander seeds
Cinnamon
Cayenne pepper
Garlic
Less common spices to consider include ancho chile powder, Mexican oregano, tomatillos and serrano peppers. Many local grocery stores have a Hispanic foods section to explore. Flavorful vegetables, such as onion, jalapenos, chipotle peppers and poblano peppers, enhance flavor and add to your daily vegetable goal. If you feel your dish's flavor is a little flat, try a splash of lime juice to brighten up the flavor before reaching for the salt.
Load up on vegetables.
Many Mexican American dishes revolve around protein, but increasing vegetables in these dishes increases flavor and reduces calories. Make sure your dish includes at least a serving of vegetables, or a half-cup of cooked or one cup of raw vegetables. For example, a half-cup of cooked bell peppers is only about 25 calories. Many traditional Mexican dishes use summer squash or zucchini. These vegetables can be added to many dishes as they take on flavor well.
Salsa can count as a vegetable, but many store brands are high in sodium. Summer is a great time to experiment with making your own lower-sodium salsa as fresh produce becomes more abundant.
Add lean proteins.
Choose lean proteins, such as fish; chicken; ground turkey; or lean steak, such as top sirloin. Another option is using pinto, black or fat-free refried beans in place of meat. If using ground beef, try substituting half of the beef for ground turkey, vegetarian soy crumbles or black beans.
Select whole grains.
If you are watching your carbohydrates, choose smaller tortillas or look for a low-carb wrap. Many people assume tortillas are lower in carbohydrates, as they are marketed as being healthier than bread, but one 10-inch tortilla has more grams of carbohydrate than two slices of bread.
Work in whole grains by substituting whole-wheat tortillas for white flour tortillas and brown rice for white rice.
Curb added fat.
Limit the added fat by choosing low-fat or fat-free sour cream, reduced-fat cheese and fat-free refried beans. You can use low-fat plain Greek yogurt in place of the sour cream for a protein boost. Limit the amount of oil in cooking by using an oil spray and a nonstick pan or by baking in the oven.
Try some lighter recipes of these popular Cinco de Mayo dishes:
Chicken fajitas
Serves 12
Dietitian's tip: It's easier to slice the chicken when it is still partially frozen rather than waiting until it's completely thawed.
¼ cup lime juice
1–2 cloves garlic, minced
1 teaspoon chili powder
½ teaspoon ground cumin
3 pounds boneless, skinless chicken breasts, cut in ¼-inch strips
1 large onion, sliced
Half a green sweet bell pepper, slivered
Half a red sweet bell pepper, slivered
12 low-fat, whole-wheat 8-inch tortillas
½ cup salsa
½ cup fat-free sour cream
½ cup low-fat shredded cheddar cheese
Combine the first four ingredients in a large bowl. Add chicken slices and stir until chicken is well-coated. Marinate for 15 minutes. Cook chicken in a pan, or on a grill or stovetop, for 3 minutes or until no longer pink. Stir in onions and peppers. Cook 3 to 5 minutes or until done to your liking. Divide mixture evenly among tortillas. Top each tortilla with 2 teaspoons salsa, 2 teaspoons sour cream and 2 teaspoons shredded cheese. Roll up and serve.
Nutritional information per serving (1 filled tortilla): 220 calories, 4 grams fat, 1 gram saturated fat, 84 milligrams cholesterol, 830 milligrams sodium, 16 grams carbohydrates, 10 grams fiber, 30 grams protein
Fish tacos with tomatillo sauce
Serves 4
Dietitian's tip: If cilantro isn't to your liking, use parsley instead. You can use a different pepper in place of the Fresno peppers and your favorite salsa in place of the tomatillo salsa. Just watch the sodium content.
12 ounces whitefish, such as cod or tilapia
Salt and pepper to taste (optional)
¼ head Napa cabbage (1½ cups)
1 teaspoon cumin
2 teaspoons paprika
½ teaspoon chili powder
½ small yellow onion, diced (¼ cup)
2 tablespoons minced cilantro
2 red Fresno peppers, diced
Zest and juice of 1 lime (½ teaspoon zest, 1 tablespoon juice)
4 tablespoons tomatillo salsa
4 wheat tortillas (6-inch diameter), lightly grilled or toasted
Season fish with salt and pepper if you like. Then bake fish at 375 F for about 20 minutes until internal temperature reaches 145 F. Or grill fish if you prefer. Place remaining ingredients, except tortillas, in a mixing bowl and toss to combine. Flake fish and place on tortillas. Top with cabbage and salsa mixture. Serve immediately.
Nutritional information per serving (1 filled tortilla): 187 calories, 3 grams fat, 0.5 grams saturated fat, 39 milligrams cholesterol, 190 milligrams sodium, 21 grams carbohydrates, 2.5 grams fiber, 19 grams protein
Romi Londre is a dietitian in Nutrition in Eau Claire, Wisconsin.