Are you ready to have a baby?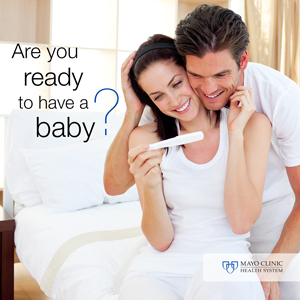 Planning for baby begins before you even get pregnant. To help ensure a healthy pregnancy, schedule a preconception appointment with your health care provider. A preconception appointment is especially important if you're in your 30s or 40s or if you have any chronic health conditions or special concerns.
Here are a few of the questions you'll be asked:
Are your vaccines current? Infections such as chickenpox (varicella), German measles (rubella) and hepatitis B can be dangerous for an unborn baby. Your vaccinations should be updated before you begin trying to conceive.
Do you have any chronic medical conditions? If you have a chronic medical condition — such as diabetes, asthma, high blood pressure or hypothyroidism — your health care provider may adjust your medication and explain any special care you may need during pregnancy.
Are you taking any medications, herbs or supplements? Your health care provider may recommend changing doses or stopping them completely before you conceive. This is also the time to start taking prenatal vitamins. Why so early? The baby's neural tube — which becomes the brain and spinal cord — develops during the first month of pregnancy, possibly before you even know that you're pregnant. Taking prenatal vitamins before conception is the best way to help prevent neural tube defects.
What is your age, family history and pregnancy history? Your health care provider can help you put any risk factors into perspective, as well as develop a plan to give your baby the best start.
Does your current lifestyle support a healthy pregnancy? Healthy lifestyle choices during pregnancy are essential. Your provider will discuss the importance of a healthy diet, regular physical activity and managing stress. If you're underweight or overweight, your provider might recommend addressing your weight before you conceive.
Parental health is key to a healthy pregnancy. After all, healthy parents are more likely to have healthy babies. Taking care of yourself is the best way to take care of your baby.
Katrin Tsigonis, M.D., is a family medicine physician at Mayo Clinic Health System – Franciscan Healthcare in La Crosse.
Topics in this Post
Comments (1)
Lillian Schaeffer
Friday, October 7, 2016
These are some great tips, and I appreciate your advice to make sure all of your vaccines are up-to-date before trying to conceive. My husband and I graduated a couple of years ago, and we've decided that we're ready to start a family. I'll definitely make sure to get all of my vaccines updated before we start trying to conceive so our baby will be healthy. Thanks for the great post! http://www.kenmoreclinics.com.au/Baby-Clinic-pg26546.html