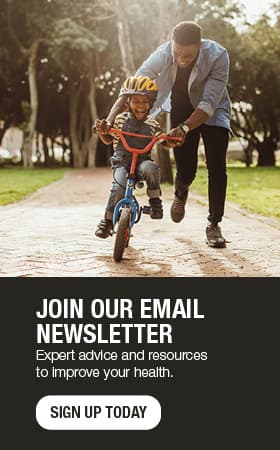 Weight loss program, bariatric surgery return woman to active lifestyle
Hiking, swimming, yoga, chasing her grandchildren — Susan Girdhari leads about as active a lifestyle as one can get.
But that wasn't always the case.
Over the last four years, the 62-year-old Eau Claire, Wisconsin, woman has lost nearly 100 pounds. She credits a combination of bariatric surgery and the Weight Management Services program at Mayo Clinic Health System for helping her shed the pounds and keep them off.
"I had done the program at one point and lost some weight. Then life got busy and I stopped going, which was a mistake," says Susan, a nurse practitioner in the Orthopedics Department at Mayo Clinic Health System in Eau Claire.
Susan started Phase 1 of the program — the initial weight loss phase — in January 2008 and Phase 2 — the maintenance phase — in February 2009. She left the program in October 2012 to have Roux-en-Y gastric bypass surgery, which was performed by David Ciresi, M.D., a surgeon at Mayo Clinic Health System in Eau Claire. Roux-en-Y is a minimally invasive, laparoscopic procedure that involves reducing the size of the stomach and bypassing the part of the small intestine. This procedure limits the size of the stomach and amount of nutrients absorbed by the stomach.
After losing 42 pounds in the first four months following the surgery, Susan decided that the program structure was a good complement to her surgery weight loss success, so she rejoined the program in January 2013 and has continued with the weekly classes.
Eileen Dutter, a certified registered dietitian in Weight Management Services, facilitates the class that Susan attends and says it's been rewarding to watch her succeed.
"She's unwilling to accept failure about her health and weight, and is continually striving to find ways to make it work and improve," Eileen says.
TIME FOR A CHANGE
Susan says she has struggled with her weight most of her adult life and decided to enroll in the Weight Management Services program when life got less comfortable.
"I just realized I was getting less mobile — simple, funny things like, 'Yeah, it's hard to travel — to find a seat where you didn't feel like you were impinging on everybody,'" she recalls. "Even just sitting in a car comfortably was starting to get hard."
Her family was an even bigger motivator to slim down and improve her health.
"I realized that I wanted to be around for my kids and my grandkids," says Susan, who has three children and five grandchildren. "I don't want to die young."
She had been diagnosed with prediabetes and fatty liver disease, and was on cholesterol and blood pressure medication — all of which has turned around since losing weight. Although she is still on a low dose of her blood pressure medication, she is hoping even that is temporary as she continues to lose weight.
Susan marvels at how much better she feels at her lighter weight and how much more she can do.
"I feel better, I move better," she says. "I can do things that I hadn't done for a number of years."
Through the program, she's learned the three basic keys to losing weight and keeping it off:
Physical activity
Portion control
Increased fruit and vegetable consumption
CONTINUED SUPPORT, CONTINUED SUCCESS
We all know it, but doing it is another story," says Susan, noting that remaining in the program helps keep her accountable. "I think a lot of people can lose weight initially. Changing your lifestyle is another thing. That's not as easy. It takes a support system and long-term work because it's easy to slide back into some of the same habits that you had before.
"The program has been an amazing support system," she continues. "I don't think I could have kept this weight off without them."
Eileen says she tends to agree, saying weight loss can be difficult without the accountability the program offers.
"It's not always that they don't know what to do," Eileen says. "They might not always do what they know. So we just keep it on the front burner."
Susan says her weight loss journey shows that there's no failure unless a person chooses to quit working on their goals.
"It's not a perfect world that we live in, and there are lapses," she says, referring to periodic fluctuations in weight. "We don't want those relapses to be the end of the story. There's always a solution to your program — always."
---
Read more blogs about weight management and bariatric surgery, and find information sessions near you that can help you reach your goals.