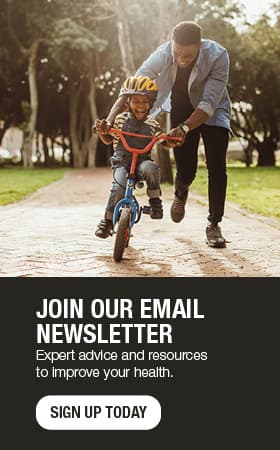 Sudden cardiac arrest sidelines coach during game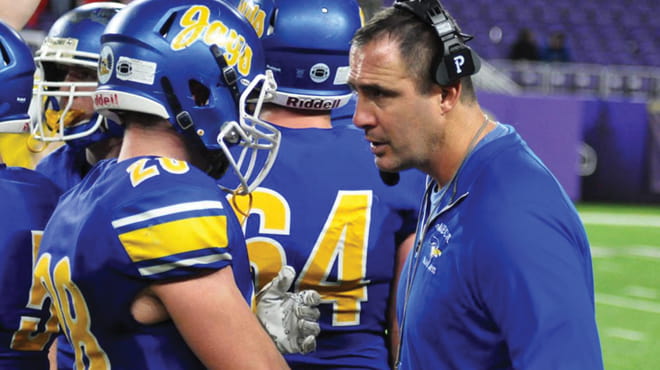 It was the first week of the football season at Waseca (Minnesota) High and Coach Brad Wendland was anticipating celebrating a 27–13 win against St. Peter with his team — not a near-death experience. As the clock ticked down the final minute, Brad felt lightheaded. Then he collapsed in a heap on the sidelines with what was later diagnosed as sudden cardiac arrest.
That night, another team was on his side: three Mayo Clinic Health System staff members.
Troy Hoehn, the team's athletic trainer and supervisor of Athletic Training Services at Mayo Clinic Health System in Mankato, ran to Brad's side, calling his name. Joining him was Leah Rutz, the opposing team's athletic trainer and an athletic trainer at Mayo Clinic Health System in Mankato, and Krystal Malis, a nurse at Mayo Clinic Health System in Waseca, who was watching the game from the stands.
"Brad wasn't responding to me," says Troy.
As he assessed the coach's condition, Krystal began CPR and Leah grabbed an automated external defibrillator, also called an AED, that was kept on hand during games. Amid the stunned silence at the football field, the team heard the wail of an approaching ambulance.
"I administered a shock with the AED," Leah says. Then she resumed chest compressions after the shock.
"I could feel his heart beating again. Brad started moving a little, and then he was awake," says Leah. "His first words to us were: 'I want to get up. My chest hurts. I want to get up.'"
When Brad woke up, that's when Krystal realized she was treating the coach. "He was the last person I would have imagined experiencing this," she says.
Sudden cardiac arrest is the abrupt loss of heart function, breathing and consciousness. The condition usually results from a problem with the heart's electrical system, which disrupts its pumping action and stops blood flow to the body.
This condition isn't the same as a heart attack, which is when blood flow to a part of the heart is blocked. However, a heart attack sometimes can trigger an electrical disturbance that leads to sudden cardiac arrest. If not treated immediately, sudden cardiac arrest can cause death. Survival is possible with fast, appropriate medical care, including CPR and a defibrillator.
The Minnesota State High School League encourages schools to have AEDs readily available and emergency action plans in place. Brad was fortunate, not only because he had three experienced health professionals respond immediately, but Waseca High School had implemented plans to handle such a crisis.
"Mayo Clinic Health System started promoting athletic training services in our area, and that shouldn't be overlooked," says Joe Hedervare, Waseca High School's activities director who was in the press box and called 911 when Brad collapsed. "Five years ago, this story could have turned out completely different."
Troy, who has been an athletic trainer for 23 years and is Leah's supervisor, says the athletic training program was formed about 15 years ago. "When the Orthopedics and Sports Medicine Department started in Mankato six years ago, we also ramped up the athletic training program. A number of schools and other organizations with youth sports programs are now participating in it. We've also added more athletic trainers to our staff."
"We do more than tape ankles or fill water. We're trained to react to any situation that arises on the field or court, whether it's a broken arm or sudden cardiac arrest," says Leah.
Brad has since learned how lucky he was to have collapsed when and where he did. Sudden cardiac arrest is the third-leading cause of death in the U.S., and 9 of 10 people who have a sudden cardiac arrest away from a hospital don't survive. Had Brad been stricken while walking to his car later than evening, the outcome could have been tragically different.
The coach is being evaluated at Mayo Clinic in Rochester to determine what caused his heart to stop. It may be related to a heart murmur in his mitral valve. An implantable cardioverter defibrillator, which is like an internal AED, is now in place and can shock his heart back into rhythm, if needed. He's back in the classroom and gradually increasing his coaching time with the football team, which is ranked seventh in the state's Class 3A.
Brad has one recommendation for everyone: "I'm alive today because there were people nearby who were trained in lifesaving skills. I can't stress enough the importance of CPR training and having an AED on hand. If one person asks at their work, 'Where's our AED' or someone gets trained in CPR, my incident will be worth it."
Krystal also encourages people to take CPR and AED training, and recognize the signs of illness so cardiac and respiratory conditions can be addressed before they result in cardiac arrest.
In addition, Troy and Leah emphasize the importance of having athletic trainers at schools and events. "Our work area is on the field, not just in the clinic," Leah says. "Every day around the world, athletic trainers not only treat injuries, but also save lives."
On that ordinary fall night that took an unimaginable turn, as Brad was being lifted into the ambulance, he heard a sound he recognized: the full-throated cheering of the crowd. But that night, they were cheering for him.