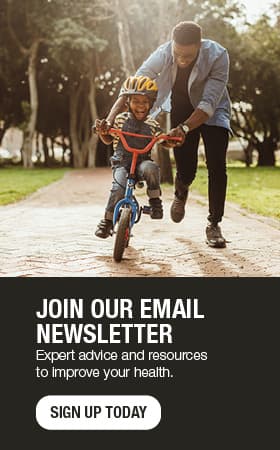 Small changes lead to improved health with Type 2 diabetes
Mark Klesmit's exercise regimen used to consist of walking around his employer's plant. Now he's frequenting its on-site workout facility three to four times a week for an hour or more at a time. Coupled with other lifestyle changes he's made, including watching his portions, and making smarter food and beverage choices, he's made tremendous gains in his physical health over the past year.
"I try to watch what I eat, cut away from a lot of soda and drink more water, and I'm exercising," says Mark, a 40-year-old machine operator from Eau Claire, Wisconsin. "It's more or less just been general, common sense changes."
Mark's journey toward a healthier lifestyle began in April 2018 when some unsettling symptoms, including fatigue, grogginess and trouble going to the bathroom, brought him to the doctor. As part of his examination, doctors tested his blood sugar — and discovered how high it was.
Signs of trouble
"They checked my A1C level and realized it was over double what it should be," says Mark, referring to a common blood test used to diagnose diabetes.
Mark soon learned that he had Type 2 diabetes. Then he met with a family physician, who worked with him to go over options and next steps. The suggested treatment included a low dose of a diabetes management medication called metformin.
"He said, 'Well, we'll put you on this medication to knock it down, and, hopefully within a year, year and a half, as long as you keep yourself on the straight and narrow, we can probably get you off the medication,'" Mark recalls.
That's also when he enrolled in the Diabetes Education class with Mayo Clinic Health System, where he received comprehensive education about the disease and guidance to develop the lifestyle skills to manage it. Thanks to Mark's hard work in and out of the class, his A1C and blood sugar improved and returned to normal ranges.
What particularly impressed Mark's care team was his desire to pass on his newfound knowledge to other relatives, including mentoring his young daughters on the importance of healthy lifestyles.
Signs of success
To date, Mark has lost about 30 pounds and wants to drop 100 pounds. He credits the Diabetes Education class for arming him with the information he needed to make smarter choices.
"Really, I'd recommend it to anyone who's looking to change their lifestyle or is on the verge of being diabetic," says Mark. "The opportunity came along for me, and there's no way I wanted to squander it away."