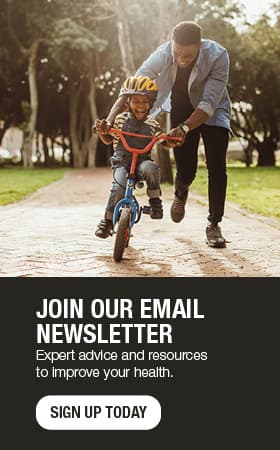 Positive attitude affects physical therapy outcome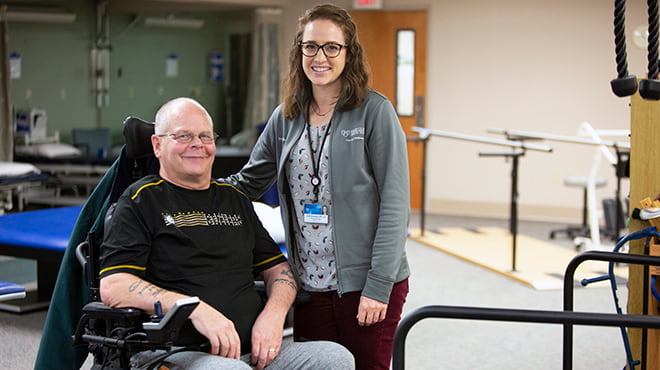 Multiple sclerosis (MS) is an incurable disease of the brain and spinal cord (central nervous system) that can cause permanent deterioration to the nerves. Yet, for all of the effects MS causes, Carl Hohman of Genoa, Wisconsin, continues to keep a positive attitude as he faces this debilitating disease.
First diagnosed with MS in 2001, Carl's immune system began attacking the protective sheath, or myelin, covering his nerve fibers. This caused communication problems between his brain and the rest of his body. For Carl, this has meant a steady routine of physical therapy at Mayo Clinic Health System – Franciscan Healthcare in La Crosse, Wisconsin. Anna Stoecklein, D.P.T., has been Carl's physical therapist for the past seven years and is guiding the plan to help keep him active and moving.
Setting goals for physical therapy
"The goals for Carl's therapy have changed a lot throughout the years," says Anna. "At first, it was to walk independently. Later, when he was weaker, it was to be able to transfer using a device to help with movement. Most recently, we're back to a goal of walking short distances at home with a walker."
Anna clarifies that as a therapist, her goal is to reflect Carl's goals, and she admits that he has been realistic about his limitations and disease. However, she affirms that he also is optimistic and motivated to meet whatever goals he sets for himself.
Setting physical limits can be frustrating, especially for someone like Carl, who in past years participated in a number of outdoor activities and lived an adventurous life. Yet the bond he's formed with Anna and the rehabilitation staff helps keep his spirits high.
"Fortunately, I have a great group of people that I work with around here," Carl says. "Everybody in the place is very supportive."
Thinking positive about physical therapy
Anna appreciates the attitude Carl brings to his therapy sessions that take place multiple days throughout the week.
"It's incredibly important for a patient undergoing any type of therapy to keep a positive mindset," says Anna. "It can make the biggest impact outside of what we do in the physical therapy (P.T.) clinic. Patients need to believe that they can get better. They need be motivated to do a lot on their own, as they only spend about 1% of their week in the PT clinic. This is why home programs are crucial to a patient's rehabilitation. How a patient feels mentally and emotionally affects everything, and can make or break their course of therapy."
Physical therapists teach patients how to prevent or manage their condition to achieve long-term health benefits. Physical therapists examine each individual and develop a strategy using treatment techniques to promote the ability to move, reduce pain, restore function and prevent disability. In addition, physical therapists work with people to prevent the loss of mobility before it occurs by developing fitness- and wellness-oriented programs for healthier, more active lifestyles.
Helping treat conditions with physical therapy
In addition to helping people with a disease such as MS, physical therapists see patients for musculoskeletal conditions, including an ankle sprain, chronic back pain, tennis elbow, whiplash and everything in between.
"Therapists treat patients who have had strokes or have had falls and need to work on balance, and those who have dizziness and other inner ear or visual disorders," says Anna. "We treat patients who have difficulties with their pelvic floor, including postpartum, incontinence or constipation. We see patients after surgery or after breaking a bone. We treat people of all ages from infants up to geriatric patients."
For Carl, a supportive care team, loving family and ability to inspire others helps keep him going.
"It's amazing what things in life you think you need or you don't need, and I'm so happy to still be with my family," says Carl. "Keep a smile on your face, and just go strong. Never give up. Never give in."