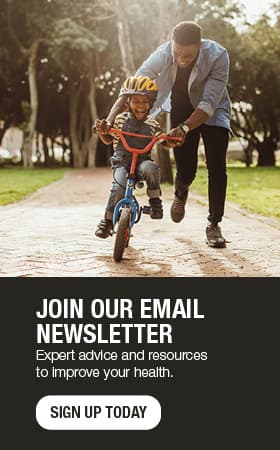 Personalized care gives Marie Hammes oxygen and answers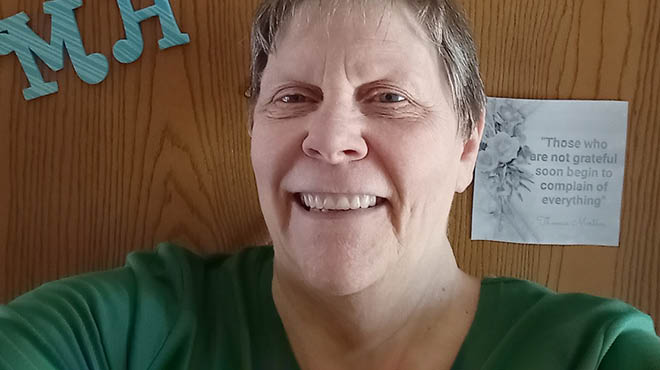 Every day, people take more than 23,000 breaths that fill their lungs with 2,000 gallons of air. It's an automatic and essential function that most people don't think about — until that breathing becomes difficult.
Marie Hammes knows this feeling well. The 70-year-old West Salem, Wisconsin, resident was diagnosed with chronic obstructive pulmonary disease, or COPD, in 1996. This chronic inflammatory lung disease causes obstructed airflow from the lungs. She handled her condition without extra oxygen until 2008, when pneumonia made breathing harder.
For the next 10 years, Marie used a stationary oxygen concentrator overnight at home and portable oxygen tanks when away from home. In 2018, a health insurance plan change led her to seek a new oxygen supplier. That's when she met Jaclyn Dunnum, a respiratory therapist and Mayo Clinic Store assistant manager in La Crosse.
Supporting patient needs
Mayo Clinic Store is a convenient supplier of durable medical equipment for patients recovering at home from an illness or accident or managing a chronic health condition like COPD.
Jaclyn explains that getting necessary medical equipment can feel overwhelming and complicated. Usually, the need is triggered by a medical condition that can feel scary and affect daily activities.
"Nobody wakes up in the morning and thinks, 'I am going to go get oxygen' or 'I want a bed and a walker,'" she says. "It is our job to make life easier by providing patients some normalcy in needing medical equipment."
Mayo Clinic Store staff accomplish this by educating patients and their families about their options and helping them select the least intrusive, but most beneficial, equipment for daily living needs.
Helping Marie breathe easier
After discussing the options with Jaclyn, Marie decided to continue using a stationary concentrator at night and switched to a portable oxygen concentrator for times away from home. She was happy with how the portable concentrator made it easier to navigate when away from home.
"A portable oxygen concentrator is a small device that she can carry in a shoulder bag or backpack that pulls atmospheric air into the unit and creates medical-grade oxygen," says Jaclyn. "This allows Marie to be safe outside her home and keep her blood oxygen levels at the appropriate level."
Marie primarily uses supplemental oxygen while venturing outside and each night during sleep.
"I would never be able to walk through an entire store without the portable. It has made my ability to move where I want to much easier," she says. "It keeps my brain working well too. The portable is so much nicer to take places because I used to run into everything with the tanks."
No unimportant questions
The support Marie feels extends beyond the equipment she has received. Over the years, she has learned that she can depend on Jaclyn to answer her questions quickly and compassionately, whether they are big or small.
"I never feel like I ask a stupid question. She takes it in and answers it — no problem."
That's an important part of the job says Jaclyn.
"Durable medical equipment can be hard to navigate if you don't know the questions to ask or who to ask. I would not be doing my job as a healthcare worker if I did not make sure she was safe and getting what she needed to be safe in her home."
Marie is grateful for this personalized attention.
"They have been wonderful with me. Ask any question, and they are more than willing to try to answer it. It truly helps to know that I have them to rely on if or when needed."
Other equipment
In addition to oxygen, Mayo Clinic Stores offer a wide variety of equipment to help patients live safely and fully at home, including:
Braces
Breast pumps
Compression garments
Continuous positive airway pressure (CPAP) products
Daily living aids
Enteral nutrients
Exercise aids and adaptive equipment
Hospital beds
Lifts and lift chairs
Mastectomy products
Mobility aids, including canes, crutches and walkers
Ostomy supplies
Oxygen
Personal care and convenience items
Respiratory devices
Urology supplies
Wound care supplies
Not all equipment and services are available at all Mayo Clinic Store locations. Check with your preferred location in advance.
Celebrating every milestone
There's little slowing down for Marie. Recently, she marked her 70th birthday with her typical month-long celebration.
"I think every year is a milestone and worth a party," she laughs. "Age doesn't bother me, and having my oxygen helps me to celebrate."
Her attitude inspires Jaclyn and the Mayo Clinic Store staff.
"Marie is so fun to work with. She's a busy lady, and I'm glad the equipment keeps her that way," says Jaclyn. "She advocates for herself, and our team will always support whatever she needs."