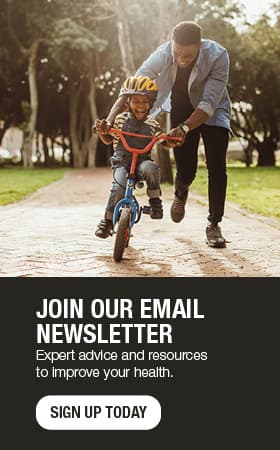 Quick, easy online scheduling for COVID-19 test offers reassurance to traveling family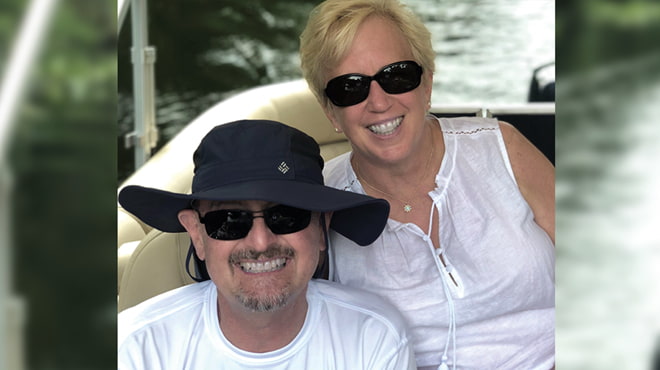 Tammy Veldhuizen was driving back to Florida from Minnesota with her husband and son. It was their first visit back to Minnesota in more than two years, but they were all glad to be heading back home again.
They had taken the proper COVID precautions before traveling. They had their masks and hand sanitizers, and they all were fully vaccinated. Mark, Tammy's husband, receives monthly treatment for cancer, so he had also received his third vaccination dose as an immunocompromised patient.
Because of Mark's health, both he and Tammy are vigilant about watching his health and contacting his care team whenever he gets ill. Watching for COVID-19 symptoms has become part of that vigilance. Tammy also has caregiver access to Mark's medical record through Patient Online Services and uses it to connect with Mark's care team on his behalf when needed.
On the second day of their trip back home to Florida, Tammy needed that caregiver access.
Mark started to have a sore throat, one of the symptoms of COVID-19. Both he and Tammy were concerned.
Connecting through Patient Online Services
"I knew he needed to get tested for COVID-19 quickly," Tammy says. "I talked with my son, and we decided that if we each drove part of the way, we could get back home so Mark could get tested the next day. I figured I would call first thing in the morning and schedule a COVID test for Mark."
Then she remembered she could schedule the test appointment using Patient Online Services. This option had just gone live for Florida during their vacation.
"While my son continued to drive us home, I logged in to Patient Online Services on the Mayo Clinic app and accessed Mark's account through my account, as I often do," Tammy says. "I got into Check Symptoms, chose COVID-19 symptoms, answered a few questions about Mark's symptoms and the recommendation to schedule a COVID-19 test appeared. I immediately took advantage of online scheduling to schedule his appointment for the next morning."
The family arrived home in Florida and the next day, Mark went to his testing appointment. Within 12 hours, he received a notice that he could view his results in Patient Online Services.
"Thankfully, Mark tested negative for COVID-19," Tammy says. "We still had to address his cold symptoms, but knowing so quickly that he didn't have COVID was such a relief. Online scheduling really helped with this."
Online scheduling for COVID-19 test appointments
Online scheduling for COVID-19 tests is available for Mayo Clinic Health System patients. Patients with symptoms should use the Check Symptoms feature in Patient Online Services so their symptoms can be documented in their health records.
Patients who are not experiencing COVID-19 symptoms but need a test for work, travel or other reasons can use the direct scheduling option available on Patient Online Services. A quick way to get to either of these options is to select "COVID-19 Test" in the COVID-19 resources in Patient Online Services and then follow the prompts to schedule a test appointment.
As Tammy says, and Mark agrees, online scheduling for the COVID-19 test "was so awesome!"
"I didn't have to wait until I got home to call — I just did it," Tammy says. "It was so easy, and it put our minds at ease knowing he had an appointment first thing in the morning."