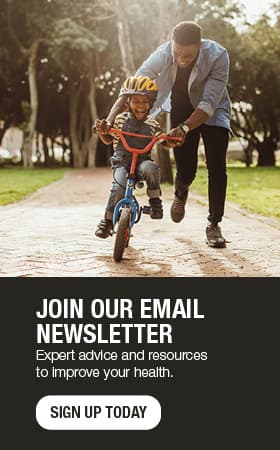 Nurse educator becomes patient, gives caregivers A+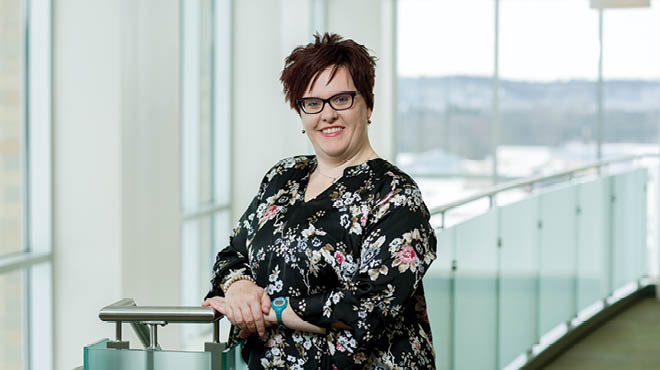 With snow — and a lot of it — on the horizon, Amy Monsour left work early to pick up her two children from daycare. She wanted to get home safely before the wintry weather made travel dangerous.
It was a good plan. But, in spite of that, Amy didn't make it home that day. The weather stopped her before she even had a chance to get on the road. "I fell in the parking lot of the daycare center with my daughter in my arms and my son next to me," Amy says. "I heard a crack and fell to my knees."
Her son urged her to stand back up, but Amy, a nurse educator at Mayo Clinic Health System in Cannon Falls, Minnesota, knew she wouldn't be walking anytime soon. She called her husband, John, from the parking lot, then crawled with her kids back to the daycare center. Soon, paramedics and police officers were on the scene, loading Amy into an ambulance and heading toward the Emergency Department at Mayo Clinic Health System in Red Wing, Minnesota.
FROM STAFF TO PATIENT
"They knew I'd need surgery so took me straight to Red Wing, where a surgeon would be able to evaluate me right away," Amy says. "I had a very swift, professional evaluation."
In the Emergency Department, an orthopedic surgeon, told Amy she'd broken both her ankle and her fibula, one of the bones between the ankle and knee. She was admitted to the hospital, with surgery scheduled for the next day.
"It was nice to be an inpatient," says Amy, who was cared for by some familiar faces. Both of her children were delivered in Red Wing, and she had provided education to many of the nurses on staff. "Some of the nurses remembered me," Amy says. "I was very well taken care of."
The surgeon came to visit Amy again the next day before surgery, and talked to her about what to expect during the procedure and afterward.
"Amy had a serious break," said the surgeon. While simple breaks can be healed by immobilizing the bone with a splint, sling or cast, more complicated breaks like Amy's require metal plates and screws for stabilization. "The hardware we used was designed to keep her bones in the correct positions while they healed."
OFF-DUTY HEALING
And that healing, Amy learned, would take a while. She was unable to bear weight on her leg for eight weeks, which meant she was off duty at work — and at home.
"My husband was Mr. Mom," Amy says. "He did everything: got groceries, made meals, put the kids to bed."
After eight weeks of rest, Amy began the next stage of her healing journey: eight weeks of physical therapy with Carol Gardner, a physical therapist at Mayo Clinic Health System in Red Wing.
"We did all kinds of exercises to help me strengthen my leg, and regain my balance and range of motion," Amy says. "Carol was wonderful. She explained the need for each exercise and set goals for each day. She was very empathetic and encouraging. She's really a delight to work with."
Amy returned to work and says her experience as a patient has given her a new appreciation for care available from her colleagues close to home.
"I was really happy to be able to stay in my hometown and know that my family didn't have to go to Rochester to see me," she says. "I received the same high level of care I would get at Mayo Clinic. It's true, and I love that."