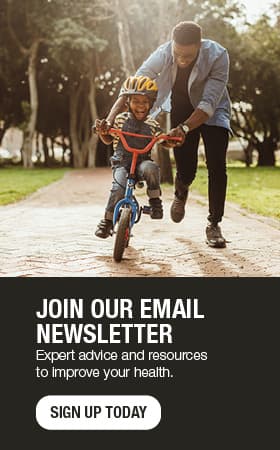 Patient resumes active life after knee surgeries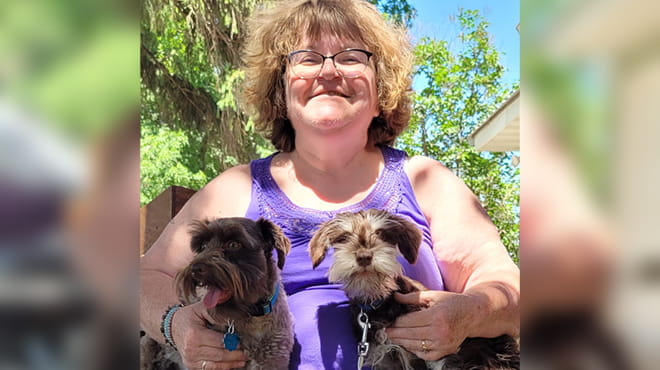 Always active, Lisa Luskey-Lestrud of Kensett, Iowa, played volleyball and softball in high school and worked physical jobs requiring hours of standing and heavy lifting. By the time she was 47, her aching knees reminded her daily of the toll that wear, injuries and having rheumatoid arthritis were taking on her ability to remain active.
After going through noninvasive treatments — physical therapy and injections — Lisa was walking with a stiff leg and more than ready to undergo total knee replacement to relieve the pain. That's when she connected with Michael Eckstrom, M.D., an orthopedic surgeon in Albert Lea and Austin, Minnesota.
"Knee replacements are typically performed due to sever arthritic pain that doesn't respond to more conservative treatment. But we're seeing these surgeries being performed in an increasingly younger population," says Dr. Eckstrom. "In these patients, severe arthritis is frequently brought on by trauma to the joint.
"At some point, it comes down to pain versus quality of life. The pain affects their quality of life and keeps them from doing what they want to do, whether it's just daily activities, playing golf or riding a bike."
One drawback is that younger patients will more than likely need another joint replacement in 15–20 years. "It's a mechanical piece of equipment that can and does wear out," Dr. Eckstrom says. "How fast that happens depends on patients' weight, if they participate in a lot of sports or engage in high-impact activities, like running."
Dr. Eckstrom says when a patient has reached the point of needing a total joint replacement, he explains the potential outcomes, then leaves the decision to his patients. "Most opt for reducing pain and improving the quality of lives," he adds.
That's the decision Lisa came to, as well, despite her young age. Her first total knee replacement was performed traditionally on the knee she had injured playing softball. The surgery provided the pain relief, stability and greater mobility she was seeking.
Five years later, orthopedic surgery technology had advanced considerably. Dr. Eckstrom performed surgery on her other knee assisted by a robotic arm.
"The precision of robot-assisted surgery provides better alignment and balance because the weight of the body is more accurately centered through the middle of the knee. It may even prolong the life of the device," says Dr. Eckstrom. "It takes out the guesswork, and I think it makes me a better, more consistent surgeon. Robot-assisted surgery definitely takes total joint replacement to the next level."
Lisa agrees. In January, at age 52, she underwent her second total knee replacement. "I definitely noticed a difference, even right after surgery," she says. "I was moving around better and went home the same day."
Her husband, Scott, and son, Ryder, took care of her, but as Lisa says, "They didn't baby me. After the first couple of days, I was managing pretty much on my own. But I firmly believe in using the ice machine to keep down swelling and pain."
A bout of COVID-19 slowed her recovery, but she's back doing her physical therapy exercises to regain strength and flexibility. One result is that, with the arrival of warmer weather, Lisa began walking more, along with her miniature schnauzers, Mylo and Axel.
Scott also bought a new motorcycle, and she practiced getting on and off.
"My goal was to be able to swing my leg over the seat. It was hard at first, but now I can do it. We're really enjoying riding again," she says.
Once again, Lisa's life is active, with motorcycle riding, serving on Kensett's 150th anniversary celebration, camping and even exploring a new job. She loves creating crafts made from found objects like driftwood, china plates and colorful beads. A circle of crafting friends is saving up money from sales to vacation together. She's busy, but that's just how she likes it. And now she can enjoy life pain-free.