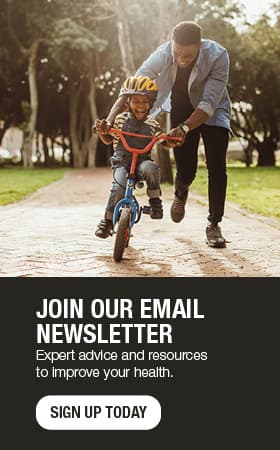 Heart Failure Clinic helps put heart failure into remission
Heart failure can be a difficult condition to manage. The Heart Failure Clinic in La Crosse can help by offering education and support. The clinic's team of cardiologists, nurse practitioners, nurses, dietitians, pharmacists and other specialists work with patients and their primary care providers to treat and monitor heart failure. Right, read how they helped one man put his heart failure into remission.
The shortness of breath started in the fall of 2011. By December, it kept Tom Hlavac from finishing his swimming routine.
"I was doing 11 laps, and then I could only do two," says the 65-year-old Sparta resident. Concerned, he scheduled an appointment with his primary physician in La Crosse, James Mannion, M.D., and was diagnosed with atrial flutter, an irregular heart rhythm.
Dr. Mannion sent Hlavac to the Cardiology Department, where doctors corrected the rhythm with an electrical shock called a cardioversion. But additional testing revealed a bigger problem.
"They tested Tom's ejection fraction, which is a measure of how well the heart is pumping," says Heather Whitney, a nurse practitioner in the Cardiology Department in La Crosse. "A normal ejection fraction is 55 percent or higher. Tom's was 16 percent. He had heart failure."
Hlavac was sent to the Intensive Care Unit, where he was given medication to increase his heart's pumping function and prevent blood clots from forming. When he was stable enough to leave the ICU, he enrolled in cardiac rehabilitation, where a team of exercise physiologists worked with him to design an exercise and lifestyle modification plan to strengthen his heart.
Then Hlavac's heart rhythm became irregular again. This time, doctors performed a catheter ablation, which involves scarring or destroying the tissue in the heart that triggers the abnormal rhythm. The procedure was a success. Afterward, he enrolled in the Heart Failure Clinic.
"We worked with Tom to get the right dose of medication to restore his heart function," says Whitney. "He took an active role in his care during this fragile time, and we collaborated together as a team. He had an excellent attitude and a determined demeanor."
That attitude and demeanor paid off. By May 2012, Hlavac's ejection fraction was up to 56 percent.
Today, his heart failure is in remission. Hlavac continues to exercise at the Cardiac Rehabilitation Center and sees Whitney once a year to make sure his heart remains healthy.
"I feel great," he says.