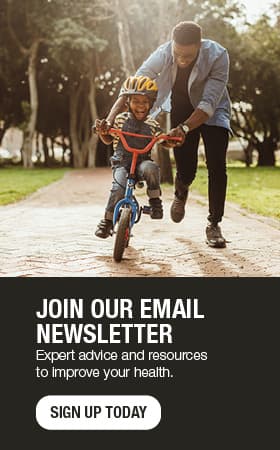 Cardiac rehab gets runner back on track after open-heart surgery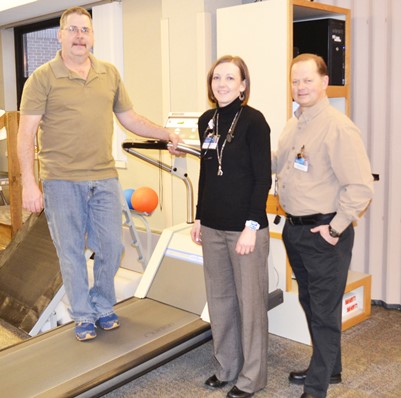 The 2010 flood that devastated Zumbro Falls, Minnesota, weighed heavily on Tim Eversman's mind. After all that he'd lost, all that he needed to do to rebuild, Tim wasn't surprised when he began experiencing physical exhaustion to match his mental and emotional stress. "Our house had four feet of water in it, and everyone in town was stressed out at the time," says Tim. "I just thought it was part of the stress."
As the exhaustion persisted, Tim made an appointment to see his primary care provider, Kayla Dascher, a certified nurse practitioner at Mayo Clinic Health System in Lake City. She suggested blood work to rule out "any nasty germs from the flood cleanup," says Tim. The results introduced a new battle into Tim's life: Type II diabetes.
Over the next few years, he fought. "I told Kayla I was doing my best, and I was doing better, but it wasn't enough," says Tim. His blood sugar and other numbers continued to fluctuate, and he eventually decided to up his game. He started walking on a treadmill and worked up to running. His numbers stabilized, his weight dropped, and he started feeling better and sleeping more soundly.
Confident that he was healthier, Tim visited Kayla for his next diabetes checkup. "I heard a heart murmur that I hadn't heard on previous exams," says Kayla. After an echocardiogram (EKG) at Mayo Clinic Health System in Lake City, Tim discovered he had a bicuspid aortic valve — a deformity in which the valve works imperfectly, often hiding symptoms for years.
"We just started watching it, making sure it didn't get worse," says Tim. "At this point, I was running outside. She told me to keep it up as long as I didn't feel any chest pain."
In September 2014, Tim ran his first 10-mile trail race and was hooked. He ran a notoriously tough 15-miler on July 4, 2015. At his regularly scheduled EKG a few days later, medical staff told him they couldn't believe that he finished the race. He needed a mechanical heart valve right away.
Two weeks after open-heart surgery at Mayo Clinic in Rochester, Tim arrived at his first cardiac rehab appointment at Mayo Clinic Health System in Lake City. "One of the first things they had me do was walk the hallway for six minutes," says Tim. "My wife, who has been such a wonderful help to me throughout this process, has a picture of me hunched over in so much pain. But since then, it's been a daily improvement. I am so much stronger, and I'm more energetic and awake."
Tim attended 36 rehab sessions with physical therapist Steve Johnson in Lake City. "I knew when I met Tim he was a motivated person," says Steve. "When I first saw him, breathing caused him pain. His goal was to get back to running, but we were a long way from a trail race."
Tim soon began to make strides in his rehab, eventually returning to previous training levels. He walked out of his final rehabilitation session with Steve's recommendation to Kayla to approve Tim's return to running.
Today, Tim is back on the trail and feeling better than ever. "Kayla continues to encourage me, and put things in perspective. I trust her, and that's huge," says Tim. "I wouldn't be where I am today without her or Steve."
National Cardiac Rehabilitation Week is celebrated in February as part of the national campaign to draw greater attention to heart health. Cardiac rehabilitation offers a number of options to those recovering from a heart attack or heart surgery, or for those living with heart disease.