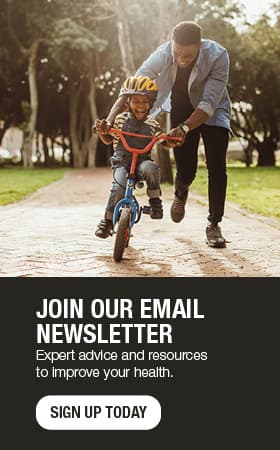 Goodbye to pain after long-delayed hip surgery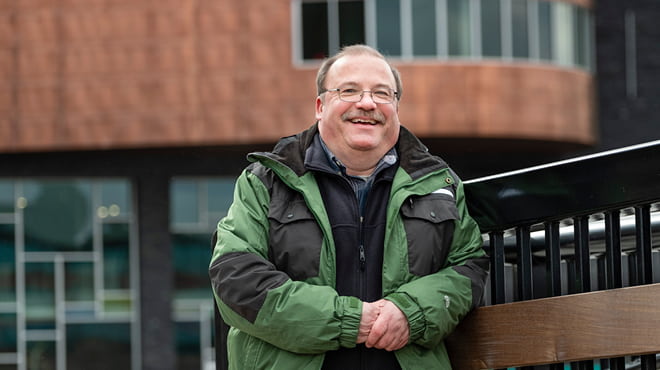 Preparing for a surgery can be nerve-wracking. Nearly everyone is at least a little unsettled in the days and weeks leading up to a procedure, not knowing exactly what to expect, but Blake Robinson was highly anxious. The 58-year-old Eau Claire, Wisconsin, man, whose only surgery was a tonsillectomy in childhood, put off the hip replacement surgery he sorely needed for years, largely held back by his fear of the unknown.
When push came to shove and he could put off surgery no more, Blake says he's glad things happened as they did and he'll forever be thankful for the understanding and supportive orthopedic team who performed his total hip replacement surgery.
"Every person knew their job," says Blake. "They did it well. They were courteous. They were kind. It just amazed me."
Blake, a seasonal parks staff member with the Eau Claire County Parks and Forestry Division, says the root of his joint problems started in the mid-1980s when he slipped on the ice and broke his ankle.
"I didn't receive proper medical attention and, for years, I was walking just a little bit off with a limp," he says. "I'm pretty sure that's what slowly wore down my hip."
LOSS OF MOBILITY
Blake, who has degenerative arthritis, was able to manage the discomfort in the beginning, but the pain steadily progressed, making his left hip stiffer and limiting his mobility as the years went by. In 2013, while on a hiking trip with his son, there was no question something was awry.
"We hiked about 8 miles in to a lake and camped overnight," he says. "We really had a wonderful time. But I just noticed then I was really starting to struggle with the pain, and the movement was getting almost unbearable."
Initially suspecting a back injury, Blake first sought chiropractic care. But after reviewing X-rays, his chiropractor recommended he see an orthopedic surgeon instead. He met with Edgar Hicks, M.D., at Mayo Clinic Health System in Eau Claire for an initial orthopedics consult in January 2018.
"That consultation with Dr. Hicks helped me decide whether or not I wanted to do this at all," Blake says. "I was really scared. I was very nervous of the unknown and just had no idea what things were going to be like. But the consultation convinced me that this was the route I needed to take."
Blake then consulted with Rusty Brand, M.D., an orthopedic surgeon at Mayo Clinic Health System in Eau Claire, just days after meeting with Dr. Hicks, and underwent a left hip replacement in February 2018.
He was pleasantly surprised. "Dr. Brand makes you feel at ease," Blake says. "When he says he's going to do something, he follows through with it. The surgery turned out exactly like he had told me it would."
DRAMATIC IMPROVEMENT
Blake marvels now at how much better he feels, to the point that he's almost ready to consider having a procedure on his right hip.
"The difference is amazing," he says. "My new left hip is so much stronger than the old one on the right. If anything, I'm starting to have issues with my right hip now, which used to be the good hip."
Dr. Brand says everything went as expected with the surgery, which involves replacing the worn out ball and socket hip joint with an artificial hip ball and socket, and that Blake recovered nicely afterward.
"He did very well," Dr. Brand says. "It ended up being one of those things like, 'Oh my gosh, why did I put it off as long as I did?' Overall, he had a significant improvement in his quality of life, which is why we do the surgery."
Dr. Brand recognizes that Blake is far from alone in his reservations about having surgery. He says many patients feel apprehensive prior to surgery, but the Orthopedic Surgery team reassures them that they're in good hands and will be well taken care of.
"This is something we do every day here," Dr. Brand says. "I don't dabble in hip replacement. Our department here is pretty subspecialized, and hips and knees are pretty much all I do."
Looking back now, Blake says he doesn't know what he waited for. He feels leaps-and-bounds better and would recommend to anyone in a similar situation that they pursue surgery, too.
PERFECT EXAMPLE
"If anybody is reading this and have a hesitation at all about Mayo Clinic Health System, I would put their fears to rest," he says. "I'm the perfect example of how you're scared and you don't know what's going to go on, and they just walk you through everything — from start to finish. Mayo Clinic Health System, to me, just runs like a well-oiled machine. I'm so grateful to have such quality health care available in my community."
Dr. Brand, in turn, thanks Blake for trusting him to do his first major surgery.
"I want to express our gratitude to him for putting his confidence in us when he was anxious about having a procedure," Dr. Brand says. "Our goal is to improve quality of life and get patients back to doing things they maybe would not be able to do because of their hip or knee. We're very happy for Blake."