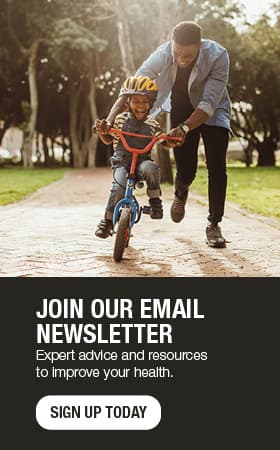 Family ties: Four generations, one provider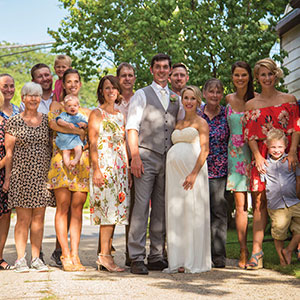 Many members of the Freitag family have been cared for by Dr. Cheri Olson over the years. Back row (left to right): Jory Stall, Lisa Josvai, Jason Miller (holding Max Miller), Chris Freitag and Brandon Freitag. Front row (left to right): Susan Shawley (with granddaughter Athena Stall), Karen Shawley, Kasey Miller (holding Reese Miller), Wendy Freitag, Blake Shepherd, Kinsley Shepherd, Donna Kowal, Sydney Freitag, Miranda Bott (with Henry Bott) and Ryan Bott (holding Theo Bott).
Twenty-one years ago, Cheri Olson, M.D., helped welcome twins Kinsey and Sydney Freitag into the world. Soon, she'll help deliver Kinsey's first child.
All in a day's — or life's — work for Dr. Olson, a Family Medicine physician at Mayo Clinic Health System – Franciscan Healthcare in La Crosse.
"It's humbling and awe-inspiring to be present at the start of a new generation and also to walk with patients throughout their entire lives," says Dr. Olson. Being part of such moments is one of the main reasons Dr. Olson says she chose her career. Getting to be a part of families like the Freitags is another. "One of the great gifts of family medicine is getting to develop long-term relationships with patients and to be welcomed into families' lives," she says.
Dr. Olson has been welcomed into the lives of many Freitags, beginning with Kinsey and Sydney's mom, Wendy. When her insurance changed more than two decades ago, Wendy was forced to switch providers. That's when she first met Dr. Olson. "All these years later, she's still our doctor," Wendy says. "She's become our home base."
Dr. Olson cared for all five of the Freitag kids as they were growing up. Today, she continues to care for Kinsey and Sydney, as well as their older sister Kasey and her two children. Wendy's mother and mother-in-law, as well as her twin sister, her partner and their family, have all become patients.
The Freitags have flocked to Dr. Olson for many reasons. At the top of the list: "She's genuine," says Wendy. "She has a good sense of humor and a great laugh."
---
"Family medicine providers are able to be advocates for our patients." — Cheri Olson, M.D.
---
Dr. Olson also has a broad and deep understanding of the family's health. "She's proactive about the things she needs to be proactive about, because she knows our history," Wendy says. For her, that includes a family history of breast cancer. "Dr. Olson made sure I had testing when I needed it," Wendy says.
"Family medicine providers are able to be advocates for our patients," Dr. Olson says. "We're a great resource to help connect patients to any specialists they need to see."
Like any family, the Freitags have experienced their share of common health issues. There have been colds and flus, toddler tantrums and teen drama. Wendy says Dr. Olson helped her navigate those ups and downs over the years. "She's a mom herself, so she really understood things," Wendy says.
Dr. Olson also has helped the Freitags through rougher waters, including multiple cancer diagnoses. She's comforted the family during tough times and celebrated with them when they've received good news, as they did when Kinsey was just a year old.
"Kinsey was very sick and was admitted to the hospital," Dr. Olson says. "We thought she had a tumor in her stomach. We were all devastated, thinking she had cancer." Instead, surgery revealed a burst appendix. "It was such a relief," remembers Dr. Olson. "We were all saying, 'Yay — appendicitis!'"
Soon, they'll all be celebrating together again, cheering Kinsey on as she becomes a new mother.
"Moments like those are why you go into medicine," says Dr. Olson.