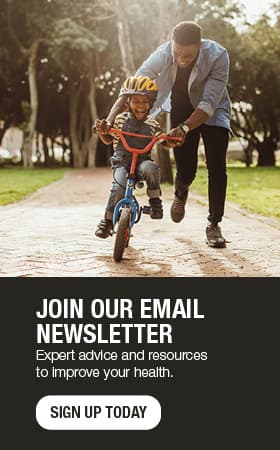 Cross-country care coordination brings Jim Hauck home after accident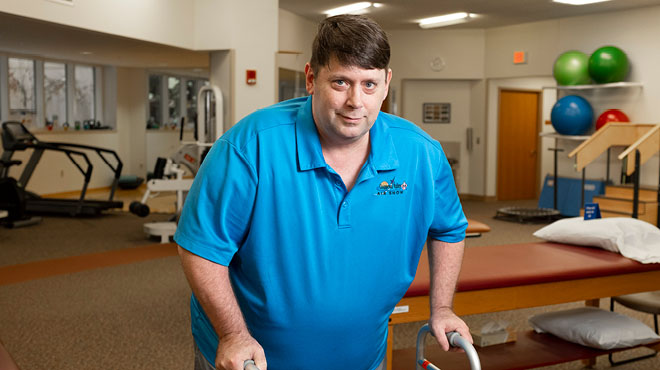 Jim Hauck wasn't sure where he was when he awoke in a hospital in February 2019. The 52-year-old Eau Claire, Wisconsin, resident had been in a serious car accident while visiting his daughter in Las Vegas, Nevada, but he has no memory of the accident.
"I had like a memory or a dream that I was back in the military," Jim says. "I felt like I was being tortured, smothered."
Jim's wife, Karen Hauck, says he was trying to tear off his oxygen mask and tubes, and hospital staff had to stop him. Once Karen told Jim what had happened, his first thoughts were those of a worried father.
"The first thing I thought was, 'Is my daughter OK?'" Jim says.
His daughter, Katie Hauck, was injured as well, but not nearly as severely as Jim. He had a long road to recovery ahead and was a long way from home.
Before Jim could even think about traveling back to Wisconsin, he needed to undergo multiple surgeries in Las Vegas. He had multiple spinal fractures, a fractured pelvis, broken ribs, lacerated lungs and liver, a brain injury and needed a hip replacement.
"My big concern was 'would I ever be able to walk again?'" Jim says. "Getting through the long days unsure of what was going to happen — that was kind of difficult."
After three months in Las Vegas, Karen started making calls to find a way to get Jim back to Wisconsin so he could continue his recovery and rehabilitation closer to home. Through Jim's Family Medicine provider at Mayo Clinic Health System, Karen connected with Gretchen Onarheim Weeks, a care coordinator for Mayo Post Acute Care at Mayo Clinic Health System – Chippewa Valley in Bloomer, Wisconsin.
"The first time I spoke to Karen, she was in tears," Gretchen says. "I told her, 'I'm going to put myself in your shoes and think, 'What if this was me?' You'd want someone to do that for you."
Transfer of care
Preparing for Jim's trip back to Wisconsin required careful coordination. Gretchen began the process of arranging for the transfer of his care from his providers in Las Vegas to Mayo Clinic Health System providers in Bloomer and Eau Claire.
"Jim still needed extensive rehab," Gretchen says. "He wanted to get back to the area, but he wasn't ready to go home."
Transferring Jim's care involved acquiring all of Jim's images and operation reports from his various surgeons in Las Vegas. Then Gretchen lined Jim up with neurosurgeon T.K. Schiefer, M.D., and orthopedic surgeons Jonathan Webb, M.D., and Tina Dreger, M.D., to oversee his care in Wisconsin. She scheduled conversations between the surgeons in each state to complete a formal hand off of care. Gretchen also worked with Jim's insurance company to obtain authorization for him to receive physical and occupational therapy once he arrived in Bloomer.
Karen and Mark Hauck, the couple's son, drove Jim over 30 hours from Las Vegas to Eau Claire, where they brought him to the Emergency Department at Mayo Clinic Health System in Eau Claire for evaluation. After a few days in Eau Claire, Jim was brought to the hospital in Bloomer, where he would spend the next four months.
Working toward recovery
While undergoing rehabilitation in Bloomer, Jim's care was overseen by hospitalist Celestine Odenigbo, M.D. Jim worked daily with an occupational therapist and a physical therapist.
"They became like a second family," Jim says. "I asked a lot of questions. The staff was phenomenal — the doctors, the nurses. Even the cook came to visit me once."
Working hard at his daily therapy paid off for Jim. When he arrived in Bloomer, he wasn't getting out of bed at all. By the time he left, he was able to walk out with a walker.
"That was huge for me," Jim says.
Gretchen and Amy Taylor, a social worker, prepared Jim for discharge by getting him the equipment he would need and arranging for him to receive home care, including continued therapy in his home.
Jim continues to work hard at his therapy. In time, he will need additional surgery on his hip. As he continues his long road to recovery, he's keeping a positive attitude.
"I just thank God that I'm alive," Jim says. "I can think. I can communicate. My family is there for me. I might not get around as well as in the past, but that's immaterial. Everything else is a bonus."