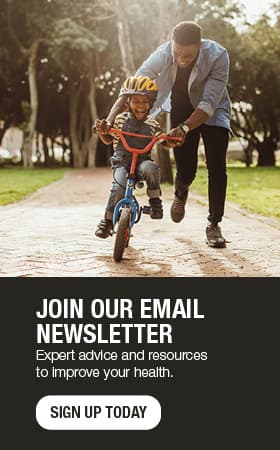 Clint Brown credits his survival to "a truckload of miracles"
On July 31, 2014, Clint Brown started the day as he had so many days before: with a bike ride.
But the peaceful ritual was shattered shortly after 6 a.m., when a driver surfing the web on his smartphone plowed into Brown from behind. He was thrown over the vehicle and landed 200 feet in front of the point of impact. The force nearly severed his legs and right arm, and left him with a host of other serious injuries. Some wouldn't be discovered until hours later, as health care teams in St. James and Rochester worked frantically to piece his broken body back together and save his life.
A few miles away in the Emergency Department at Mayo Clinic Health System in St. James, Vonnie Gratz heard the ambulance crew called to a car-versus-bike accident on County Road 3.
"I'm an avid cyclist myself and often ride that road," says Gratz. "I knew this was going to be bad. Traffic travels at 55 miles or faster and there are no shoulders on the road."
Gratz also knew there was a good chance she'd know whoever had been hit.
"Working in a hospital in my hometown is both a blessing and curse, as I tend to know the majority of patients that I care for," she says. When the ambulance arrived, Gratz's stomach sank. "Every person in that trauma room knew Clint or a member of his family."
But she and her colleagues did what they do each time a patient they know comes through the doors. They put their emotions aside and focus on the work they've been trained for. Two people took care of each of Brown's limbs. Jason Monnens, a childhood friend and now chief of the St. James Fire Department, stood at Brown's head offering reassurances. He'd been one of the first on the scene of the accident.
"Everything was quiet in the room except for Jason's voice and the providers giving orders," says Gratz. "I looked up at one point and saw nine trauma team members standing shoulder to shoulder around Clint like a team of angels. It's an image that will stick with me the rest of my life."
By the time a helicopter had arrived to transport Brown to Mayo Clinic in Rochester, the team had stabilized his limbs and inserted a tube down his throat to help him breathe. Gratz had spoken to staff in the Emergency Department at Mayo Clinic Hospital, Saint Marys Campus so they would know what to expect when Brown arrived.
That's one of the benefits of being part of the Mayo system," says Gratz. "We're used to working together. And we use the same electronic medical record, so providers in Rochester can review our notes and see results from tests we've done here in St. James."
In Rochester, staff continued the work to save Brown's limbs.
"They were worried about having to amputate my arms and legs, and worried about infection from the road rash," Brown says, referring to the tar and other debris that lodged in his skin when he skidded down the road after being hit. Once doctors stabilized his limbs, Brown had a CT scan that revealed a startling discovery: his skull was disconnected from his spine.
"The doctors were shocked that I'd survived," says Brown. "They said there was less than a 1 percent chance of surviving an injury like mine."
A team of experts spent several hours discussing the best approach for repairing the injury. The next morning, orthopedic spine surgeon Bradford Currier, M.D., led a team that successfully reattached Brown's skull and spine.
During the days and weeks that followed, Brown had additional surgeries to clean and repair his arm and legs. He battled complications, including meningitis, and overcame each issue. He started rehabilitation, working daily with occupational, physical and speech therapists. And 59 days after he arrived, Brown walked out of Saint Marys hospital on his own.
He credits his survival to "a truckload of miracles" and the many caregivers who gave him exactly the care he needed every step of the way.
"I shouldn't even be alive," he says. "It speaks so highly of everyone involved that I'm still here, and that I'm not paralyzed or missing an arm or leg. Time was a factor, and everyone worked so carefully and quickly to take care of me. To walk out on my own, I couldn't ask for anything more."
Leaving the hospital hasn't meant leaving the impact of the accident behind. Brown's neck, right arm and left leg continue to heal. There have been more surgeries and some setbacks. He knows there may be more of both.
Still, Brown is filled with gratitude. He doesn't focus on the person whose inattention nearly killed him. Instead, he chooses to focus on the dozens of people whose attention saved his life.
"It's breathtaking to think that no one dropped the ball, no one failed me from the time I was lying on the edge of the highway to the time I walked out of Saint Marys," he says. "What can I do to say thank you? Not a day goes by that I don't think about how to thank every one of the people who took care of me."