Need to make an appointment?
Surgery
Surgical services are provided in Sparta by Franciscan Healthcare physicians and surgeons from La Crosse. Two board certified general surgeons – Drs. Christopher Huiras and Nathaniel Uecker – visit Sparta to provide consultations and general procedures including surgery for carpal tunnel syndrome, hernias, hemorrhoids, and lipomas (fatty tumors) as well as colonoscopy. Surgical services are available twice a week.
A number of same day surgeries and procedures in the following specialties can also be done in Sparta: otolaryngology (ear, nose and throat), optometry, orthopedics, podiatry and pediatric dentistry.
For additional information about surgical services available in Sparta, call 608-269-1770 or speak with your primary care provider. Surgical procedures are based on referrals from your primary provider.
Facility-to-facility video visits
Appointments are offered via facility-to-facility video visits, which reduce the need to travel far and enable patients to receive care close to home.
For a facility-to-facility video visit, patients arrive to the clinic and a nurse connects them with the specialist via video. The innovative technology uses a Bluetooth stethoscope, a USB otoscope and high definition cameras that can move and zoom in for a high-quality physical exam and personal conversation with the specialist.
Video appointments are currently offered at select locations in Wisconsin and Minnesota. Learn more about facility-to-facility video appointments.
Call us for more information or to schedule an appointment.
---
Not all services and procedures are offered in this location. In certain cases, you may be connected to services at other Mayo Clinic Health System locations.
Locations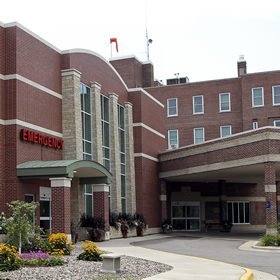 Hospital and Clinic
310 W. Main St., Sparta, WI 54656
Hours:

Mon-Fri:

9:00 AM - 4:00 PM
Providers