Need to make an appointment?
Surgery
Surgery
Our surgeons are committed to putting the needs of our patients first. We believe in improving the health of individuals and the communities we serve. We strive to provide superb, timely surgical care for our patients. All of our breast, colorectal and general surgeons are certified by the American Board of Surgery. What this means is that the surgeon has met a standard in surgery by fulfilling specific requirements related to education, evaluation of credentials, and successful completion of written and oral examinations.
Surgery and Your Primary Care Physician
Patients may see a primary care provider regarding a health concern, who may then refer the patient to see a surgeon. A patient may also make an appointment to see a surgeon without seeing a primary care provider. However, patients should check with their insurance company prior to scheduling appointments if they are not referred by a primary care provider (see referrals and tests).
Questions and Emergencies:
You can call our office with any questions related to your surgical condition. A nurse will speak with you and advise you whenever possible. Please note we may need to speak to the physician and return your call later in the day. Also know that when problems cannot be resolved over the phone, you may need to be seen in the clinic. If urgent problems arise after regular business hours, please call the Nurse on call in La Crosse at 608-392-9755 or 888-392-9755.
Our department also works closely with the Center for Breast Care and Plastic and Reconstructive Surgery in La Crosse.
On-site video visits
Appointments are offered via on-site video visits, which reduce the need to travel far and enable patients to receive care close to home.
For an on-site video visit, patients arrive to the clinic and a nurse connects them with the specialist via video. The innovative technology uses a Bluetooth stethoscope, a USB otoscope and high definition cameras that can move and zoom in for a high-quality physical exam and personal conversation with the specialist.
Video appointments are currently offered at select locations in Wisconsin and Minnesota. Learn more about on-site video appointments.
Call us for more information or to schedule an appointment.
Locations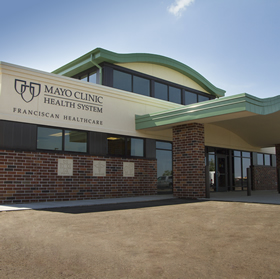 Clinic
895 S. Dettloff Drive, Arcadia, WI 54612
Hours:

Mon-Fri:

8:00 AM - 5:00 PM