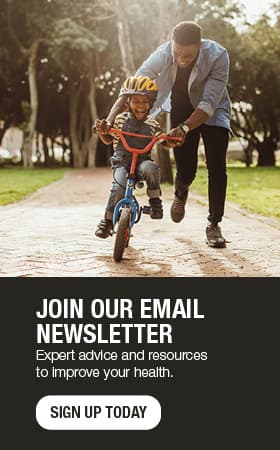 What is Mayo Clinic's Diabetes Technology Clinic?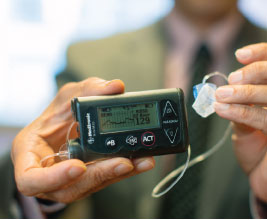 Insulin was discovered in 1921. But until about 35 years ago, people with diabetes still relied on multiple daily insulin injections to manage their blood glucose and avoid life-threatening situations. Improvements in technology are now making lives easier for people with the disease.
Insulin pumps were developed to deliver insulin subcutaneously using settings prescribed by endocrinologists and implemented by patients, but a new device works with insulin pumps to not only monitor glucose, but control insulin levels.
One of the newest technologies used to improve diabetes care is the first- generation Medtronic closed-loop (artificial pancreas) device, which was introduced to patients at Mayo Clinic's Diabetes Technology Clinic in September 2013. The device monitors glucose continuously and can stop the delivery of insulin from the insulin pump when glucose decreases to a preset level.
"This closed-loop technology has been the most quickly accepted technology for patients that I have ever seen," says Yogish Kudva, M.B.B.S., director.
Continuous glucose monitoring can be used with injections or an insulin pump, on which the closed-loop system shows data. "We have glucose data on a regular basis — every one to five minutes when patients use the closed loop system," says Dr. Kudva. "When glucose decreases to a preprogrammed threshold decided by patient and provider, insulin delivery pauses."
More than 40,000 patients have started using this technology since September, which Dr. Kudva calls "fantastic movement." The Diabetes Technology Clinic was instituted 10 years ago and gradually expanded its capacity to see patients who use or have interest in using continuos glucose monitors, pumps or closed loop systems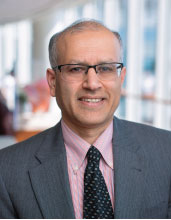 "People with diabetes essentially have two major challenges," says Dr. Kudva. "One is glucose swings with low and high blood sugar. The second is making sure sugar levels and other risk factors are dealt with appropriately."
The artificial pancreas has the ability to improve glucose control by reducing occurrences of high sugar levels and ideally eliminating low sugar levels altogether.
"The major limiting factor without a closed-loop system is an insulin reaction or low glucose," says Dr. Kudva. Now, with a closed-loop system, the frequency of these reactions is reduced substantially.
Dr. Kudva says determining whether artificial devices are a good fit depends on the individual.
"We evaluate patients and address their concerns and values," he says. "Are they willing to insert one or two systems under their skin? Are they willing to have devices attached to their body? We've learned in the last 10 years that patients require various amounts of help for particular challenges, but there's no doubt that if the technology is used properly, it offers every diabetes patient the best glucose control."
Dr. Kudva is certain that the technology and support available through the Diabetes Technology Clinic have an impact on patients' everyday lives. "We know that improving glucose control lessens complications. Reducing insulin reactions will have an impact on complications. More importantly, the technology allows patients to have less fear and better control."