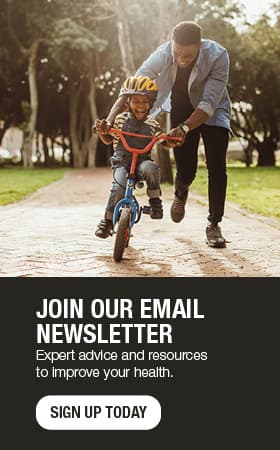 Ovarian cancer: Get the facts
Ovarian cancer is a common cancer among women and often is fatal in later stages of the disease. The cancer starts in the ovaries, and spreads to the abdomen and pelvis if it is not diagnosed and treated early.
Here are some important statistics to know about ovarian cancer:
More than 60 women will be presented with a diagnosis each day.
Roughly 270 mothers, daughters, wives and friends will be taken from our lives each week.
1 in 78 women have a chance of receiving an ovarian cancer diagnosis.
Detecting ovarian cancer
An important part of treatment is to detect the signs of ovarian cancer early. It often is not detected until the cancer moves into the pelvis and abdomen, which makes it more difficult to treat. An early diagnosis can improve the chances of successful treatment. If you are experiencing these symptoms, see your health care provider:
Quickly feeling full when eating
Abdominal bloating or swelling
Weight loss
Frequent need to urinate
Changes in bowel habits
Discomfort in the pelvic area
Ovarian cancer risk factors

Family history of ovarian cancer and personal factors can play a role in your chances of receiving a diagnosis.
These factors could increase your risk of ovarian cancer:
Obesity
Genetics
Hormone replacement therapy
Family history
Personal history of cancer or endometriosis
Increasing age or reproductive history and infertility
Decreasing risk factors
While it is important to watch for symptoms, there are some factors that could decrease your risk, including:
Oral contraceptive use
Pregnancy and breastfeeding
Removal of the ovaries and fallopian tubes
Hysterectomy or tubal ligation
Ovarian cancer takes the lives of thousands of women each year. Knowing symptoms to watch for and risk factors can increase the chances of diagnosing ovarian cancer early, which can increase your chances of beating it.
Learn more about ovarian cancer:
Dr. Suzette Peltier describes common signs and symptoms of the ovarian cancer, screening tools, misconceptions about the CA 125 test and the importance of early detection and treatment: