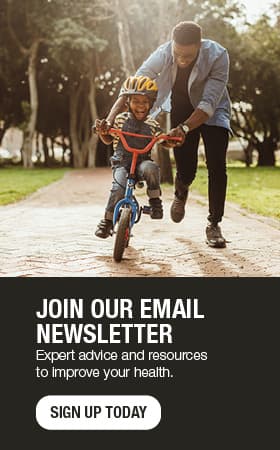 Surgery leads to a happy back, retirement
Jennifer Van Berkum's back was sending her a message: I'm done. The longtime nurse and doting grandmother was living with pain from her lower back to one of her knees. It was causing her foot to drag, which created walking problems. She also had pain in her neck. Jennifer scheduled an appointment with her primary care physician, who referred her to Anthony Burrows, M.D., a neurosurgeon at Mayo Clinic Health System who sees patients in Albert Lea, Mankato and New Prague.
Providing personalized care
"Dr. Burrows spent what seemed like an hour with me on my first visit," Jennifer says. "He asked about my symptoms and did some neuro tests. He laid out some possibilities for what might be causing my pain, and said I'd need an MRI to be sure."
When the results were in, Jennifer learned her spinal cord and vertebrae were being compressed in her neck and lower spine. She also had arthritis throughout her back.
Dr. Burrows explained Jennifer's options, which included surgery or physical therapy. "The majority of back pain and problems can be treated conservatively," Dr. Burrows says.
Jennifer decided to try conservative treatment. She started physical therapy, but instead of getting better, her pain continued to get worse.
"Eventually, I could hardly walk," says Jennifer, who, at the time, was a neonatal nurse at Mayo Clinic Health System in Mankato. "I was falling on the ice and avoiding stairs. I decided I wanted to have surgery."
Jennifer met with Dr. Burrows again for additional testing.
"During that appointment, Dr. Burrows asked me about my lifestyle," Jennifer says. "I told him I was getting ready to retire, and that I wanted to be able to play with my grandkids and travel. He told me his goal was for me to have a happy retirement."
Healing and improving
To help prepare her for that happy retirement, Dr. Burrows planned two surgeries. First, he would decompress the nerves and spinal cord in Jennifer's neck. Once she recovered, he'd fuse vertebrae in her lower spine. That procedure — called spinal fusion — creates stability in the spine and mimics the normal healing process of broken bones.
Jennifer recovered quickly from the decompression procedure. The spinal fusion took place two weeks later. Recovery would take longer — and require discipline on Jennifer's part.
"Dr. Burrows told me the first six weeks after spinal fusion were for healing, and the next six weeks were for improving," Jennifer says.
That meant no bending or twisting during recovery. Even activities like loading the dishwasher and vacuuming were off limits.
"Dr. Burrows and his staff were so explicit when they explained my recovery," she says. "Even as a nurse, I never would have thought of everything they told me. Dr. Burrows talks to you in a way you can understand, but doesn't make you feel like you're being talked down to. That's a gift."
Exceeding goals
Jennifer followed her doctor's orders, and says her pain "is 100% better than it was before.
"Surgery far exceeded my goal," she says.
She credits Dr. Burrows and his colleagues for that success.
"I had high expectations, and they exceeded my expectations," Jennifer says. "They were always smiling, happy and accommodating. I know enough about culture to know it starts from the top. There's a really great culture in that team, which says a lot."
Jennifer returned to work after surgery, but has since retired. She's enjoying time with her grandchildren, and has been planning trips with friends and family. That makes her happy. And it makes Dr. Burrows happy, too.
"Seeing patients like Jennifer do so well after surgery is the most rewarding part of my job," he says. "That's why we all go to work every day — to make a difference."