Patient Online Services: Your portal to better health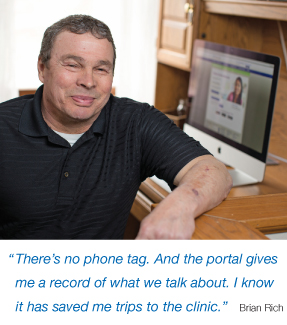 Brian Rich has discovered a way to stay healthier, and it doesn't involve taking a pill or changing his diet. His secret weapon? Patient Online Services, an online portal that the Cannon Falls resident uses to stay in touch with Evie Christensen, a Mayo Clinic Health System nurse practitioner and his primary care provider.
"Whenever I have questions or symptoms, I send Evie a note through the portal," says Rich, who has chronic obstructive pulmonary disease (COPD). "I take spirometer readings every day to check my lung capacity. If things start to go south, I get in touch with Evie right away."
Rich's health has improved since he started using the free service two years ago.
"The patient portal has allowed us to be more proactive than ever regarding Brian's lungs," says Christensen. "When his lungs are not doing well, he needs medical attention quickly or it could be life threatening. The portal has allowed us to be in contact sooner, and if there's a problem, decide if he should see me at the clinic, or go to the Emergency Department or hospital for care. He also has an emergency plan that he can initiate at home. When he's going to start the plan, he sends me a note through the portal so I can call and check in on him."
Rich says he'd rather use the portal than the telephone to connect.
"There's no phone tag," he says. "And the portal gives me a record of what we talk about. I know it has saved me trips to the clinic."
Christensen, who uses the portal to manage her own health care, appreciates the benefits as both a patient and a provider.
"The portal gives me fast access to my patients and also fast access to my own health records and results," she says. "You can communicate and feel more connected with your care team, on your time."
That's a benefit Rich appreciates too.
"I like that it's there 24/7," he says. "Sometimes a question or issue pops up in the middle of the night. I can just shoot Evie a note while I'm thinking of it and know she'll respond as soon as she can."
Health records from Mayo Clinic appointments can also be viewed through the portal.
Rich encourages everyone to try using Patient Online Services.
"I can't understand why you wouldn't want to try it," he says. "There are so many benefits, and I can't think of a single negative."
Topics in this Post
Comments (9)
Site Administrator
Friday, December 16, 2016
For those who are having difficulty finding the portal, here is a link that should help: http://mayoclinichealthsystem.org/patient-online-services. Please let us know if you have more questions.
Barbara Larremore
Saturday, December 3, 2016
I agree with Beatrice Bishop - I can't find the damned portal. I can find explanations about it, definitions of it, philosophizing about it, but I can't find IT. I want to communicate with my PA, and I am going to give up and call her on the phone. I have used it in the past so I assume that accessing it has been revised because I previously experienced no problem.
jerry
Sunday, October 23, 2016
all you put on these sites is commercials.. damn it PORTAL ???? where the hell do I sign in ???
jerry
Sunday, October 23, 2016
all you put on these sites is commercials.. damn it PORTAL ???? where the hell do I sign in ???
Diane Dunn
Monday, October 10, 2016
I can't seem to be able access my results from procedures and tests. What should I do?
Tim nicklay
Sunday, October 9, 2016
I have tried to set up my account for portal days it will send message to email and it never does let me know what I have to do
Ralph Service
Monday, September 26, 2016
New address: 60228 Evening Star Ln. Bend, OR 97702
Ralph Service
Monday, September 26, 2016
Can you please send; me the link to the patient portal? Also include my log in info. if possible........ Thanks
beatrice bishop
Sunday, April 17, 2016
I find it difficult to find my site on the portal to access communication with my doctor and find test results. Is there a direct route/web address to the portal?