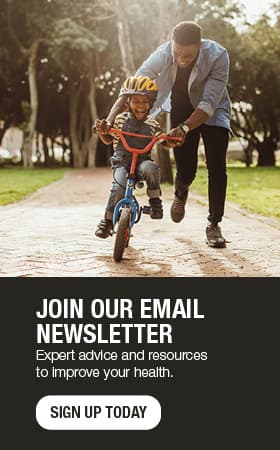 Patient Online Services: Your portal to better health
Staying involved in your health care is important. Mayo Clinic Health System's Patient Online Services is a free, secure and convenient online resource that connects you to your health care team and helps you manage your health from the comfort of your home.
Your Patient Online Services account provides you with easy access to important health care information, and it is easy to set up. In addition, you can use it to access Mayo Clinic Express Care Online to get quick care for common conditions without leaving home or visit your provider through a video appointment.
---
A patient's story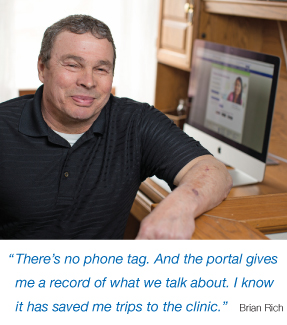 Brian Rich is one patient who discovered a way to stay healthier using Patient Online Services. The Cannon Falls, Minnesota, resident uses Patient Online Services to stay in touch with his primary care provider, Evie Christensen, a nurse practitioner in Family Medicine.
"Whenever I have questions or symptoms, I send Evie a note through the portal," says Brian, who has chronic obstructive pulmonary disease. "I take spirometer readings every day to check my lung capacity. If things start to go south, I get in touch with Evie right away."
Brian's health has improved since he started using the free service.
"Patient Online Services, often referred to as the patient portal, has allowed us to be more proactive than ever regarding Brian's lungs. When his lungs are not doing well, he needs medical attention quickly or it could be life-threatening," says Evie. "The portal has allowed us to be in contact sooner, and if there's a problem, decide if he should see me at the clinic, or go to the Emergency Department or hospital for care. He also has an emergency plan that he can initiate at home. When he's going to start the plan, he sends me a note through the portal so I can call and check in on him."
Brian says he'd rather use Patient Online Services than the telephone to connect.
"There's no phone tag," he says. "And the portal gives me a record of what we talk about. I know it has saved me trips to the clinic."
Evie, who uses the portal to manage her own health care, appreciates the benefits as both a patient and a provider.
"The portal gives me fast access to my patients, and also fast access to my own health records and results," she says. "You can communicate and feel more connected with your care team, on your time."
That's a benefit Brian appreciates, too.
"I like that it's there 24/7," he says. "Sometimes a question or issue pops up in the middle of the night. I can just send Evie a note while I'm thinking of it and know she'll respond as soon as she can."
Brian encourages all patients to use Patient Online Services.
"I can't understand why you wouldn't want to try it," he says. "There are so many benefits, and I can't think of a single negative."
Learn more about Patient Online Services:
Log in to Patient Online Services.