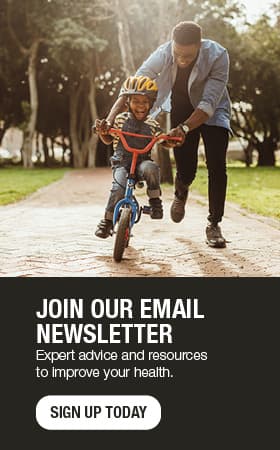 Patient Online Services helps busy mom keep her family healthier

Michelle Cowgill has discovered a way to keep her family healthier, and it doesn't involve taking pills or changing their diets.
"It's a wonderful tool," says Cowgill, who uses the portal to manage her health care, as well as the care of her three children, including son Jonah, who has autism and growth hormone deficiency. "It's so helpful, especially when you have kids with complicated medical issues."
She has used the service to ask questions, view lab results and review providers' notes from appointments.
"It's very time-efficient," says Cowgill, who has logged on from a beach in Mexico, on an airplane and in the parking lot of the medical center. "No matter where I am when I have a question or concern, I can check in."
Cowgill says her questions are usually answered the same day.
"Before I used the portal, I'd call, leave a message, and then wind up playing phone tag with someone before getting an answer," she says. "This is much more convenient."
Health records from Mayo Clinic appointments can also be viewed through the portal, an important benefit to families like the Cowgills, who see providers in Rochester, Minnesota.
"Jonah sees an endocrinologist and neurologist at Mayo Clinic, and all of the records from those appointments are there too," she says. "I can also ask those providers questions. It's a great way to communicate and helps build solid relationships with your providers."
Cowgill also appreciates having an online record with immunization dates, medication information and notes from providers.
"I recently had surgery, and it was great to be able to log in and read my surgeon's notes," she says. "I also reviewed the post-surgery instructions. It's easy to forget some of what you hear at an appointment. The portal is a great backup. And it's there anytime you need it, in one neat little package."
---
Health Information Access 24/7
Mayo Clinic Health System offers Patient Online Services, a secure and convenient way to access your health information.
On the password-protected portal you can view portions of your health records, including lab results and clinical notes, as well as pay your clinic bill using a secure interface.
Registration is easy
To register, visit mayoclinichealthsystem.org. You'll need your Mayo Clinic patient number, which is located on your billing statements and any previsit questionnaires, and an email address to create an account.
For assistance setting up an account or using Patient Online Services, call the support line at 1-877-858-0398.