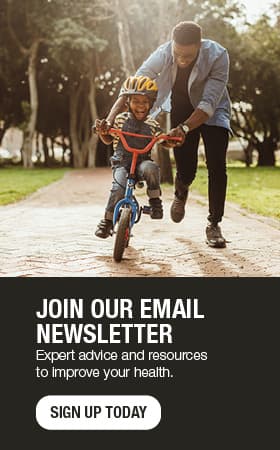 Patient Online Services: Bringing your health care to you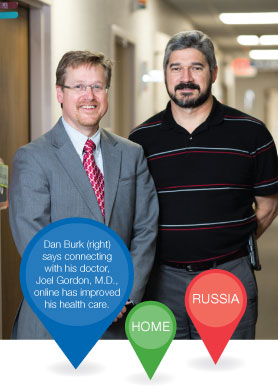 When North Mankato resident Dan Burk went to Russia to visit his daughter, who is there teaching English, he took his doctor, Joel Gordon, M.D., with him.
But Dr. Gordon never got on a plane.
Instead, he traveled with Burk via smartphone, which Burk used to connect with him through Mayo Clinic Health System's Patient Online Services.
"I go where patients go," says Dr. Gordon, a family physician at Mayo Clinic Health System in Mankato. "Patients can connect with me from anywhere, anytime."
By logging on to a secure patient portal through a smartphone or computer, patients can check lab results, request prescription refills, check their appointment schedules and communicate with their providers.
"The portal is convenient and gives patients much quicker access to information than they'd get with a phone call," says Dr. Gordon.
Burk reached out from Russia for help managing vertigo, a symptom of the migraine headaches he's been experiencing for the past three years. He says the option to connect with Dr. Gordon online has many benefits, whether he's traveling or at home.
"It can be hard to communicate everything you want to at a doctor's appointment," he says. "You get nervous, or you forget something you wanted to say."
Communicating electronically, says Burk, eliminates many of those problems. He can write down his symptoms or questions, and review them before sending a note to Dr. Gordon.
The portal also saves Burk time and money.
"I've been able to eliminate doctor appointments because Dr. Gordon is able to answer my questions or change my medication online," he says. "And when I do have an appointment, it's shortened our visits because I'm able to send him a lot of the information he needs before we actually meet. He has time to review it and get up to speed on things before I'm in his office."
Burk often uses the portal after his appointments too.
"I log on to read Dr. Gordon's notes to make sure I understood what he said, and that he understood what I said to him," says Burk.
Dr. Gordon estimates that fewer than 5 percent of his patients currently use the online portal. He expects that number to increase soon.
"It's just a matter of time before the portal really takes off," he says. "There is so much care we can provide online. We can adjust medications, suggest lifestyle changes, provide electronic versions of educational materials and even consult with Mayo Clinic specialists on behalf of patients."
Burk believes using the portal has improved his health care experience.
"It's absolutely helping me get a better handle on my migraines," he says.
It's not just how the care is delivered, but who is delivering it, that makes the difference.
"Dr. Gordon and his team are phenomenal," says Burk. "He takes time to explain things so well. When we moved to Mankato, I tried several different doctors, and when I found Dr. Gordon, I knew I had the right fit."
---
What is Patient Online Services?
For years it's been possible to shop, bank and make travel reservations online. Now it's just as easy to manage your health care online too. Patient Online Services gives Mayo Clinic Health System patients access to their lab results, medication lists and health care provider notes. Patients can also check their upcoming appointments, request appointments or prescription refills, and communicate with their providers via secure messaging.
To register, visit mayoclinichealthsystem.org. You'll need your Mayo Clinic patient number, which is located on your billing statements and any pre-visit questionnaires, and an email address to create an account.