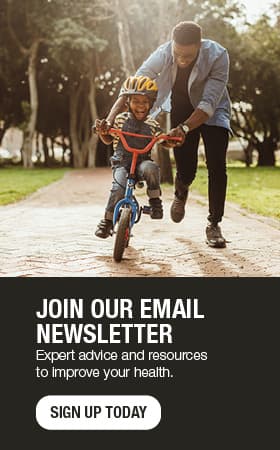 Owatonna patient gets back in the game after orthopedic surgery
After coaching football as defensive coordinator at Owatonna High School for 19 years, Marc Achterkirch wasn't ready to sit down on the job after sustaining a torn meniscus in 2013.
Bad timing, good care
Achterkirch, who also teaches math, traveled with the team to the University of Northern Iowa's UNI-Dome last fall for the state semifinals. "I was practicing — punting and kicking — and something tweaked pretty badly," he says. "It was swollen and it hurt. So I talked to Terry Carlisle, the team's head trainer, and he said, 'You really need to see Dr. Perkinson.'"
Scott Perkinson, M.D., an orthopedic surgeon at Mayo Clinic Health System in Owatonna, is a volunteer physician for the Owatonna High School football team. He practices general orthopedic surgery and, frequently, sports medicine.
"I perform knee and shoulder scopes, ACL surgery, rotator cuff repairs, hand surgery, fracture repair and joint replacements, including knee, hip and shoulder replacements," says Dr. Perkinson. "Marc came to me after several months of knee pain, and the MRI showed a torn meniscus, so I performed a knee arthroscopy."
First down
Achterkirch wanted to finish the season before dealing with the injury. He also coaches youth hockey and needs to stay mobile. He's used to being highly physically active and was worried that surgery would keep him down for too long. "I had heard horror stories about the downtime," he says.
"I can't afford it and I wanted to be going and not hobbled up for six or seven weeks, but Dr. Perkinson said I would only be down a day or two. The Monday following surgery, I was skating."
"Marc had the perfect story for a meniscus tear," says Dr. Perkinson. "Patients do better if they're fit and active. They tend to recover very well." At age 41, and athletic, Achterkirch recovered quickly. He used crutches for less than 24 hours and was back to work after four days and back in the gym two weeks later.
For the love of the game
Dr. Perkinson became an orthopedic surgeon because he loves sports. He goes to Owatonna High School football games and volunteered his services when he noticed no one from orthopedics was covering the sidelines. He has regularly monitored the sidelines, even during the team's state championship at the Metrodome in Minneapolis last year, where he set a player's broken leg immediately after injury.
"Carlisle had told me that Dr. Perkinson is really good with getting you back on your feet," says Achterkirch. "He was up front and professional, his diagnosis was perfect and his timeline for recovery was spot on. He has done a fabulous job and I'd recommend athletes — or anyone — to him."
---
What's a meniscus?
The meniscus acts as a shock absorber in the knee. When torn, a flap of thick cartilage in the joint can get pinched while bearing weight, which can be quite painful. Meniscus tears are treated arthroscopically, where the surgeon inserts a camera into the knee joint and trims out the painful flap, although in certain circumstances the tear can be repaired with open surgery.
Arthroscopy is an outpatient procedure and patients are usually walking unaided within one to two days. Total recovery time is generally six weeks, which can be less for younger and physically fit patients.