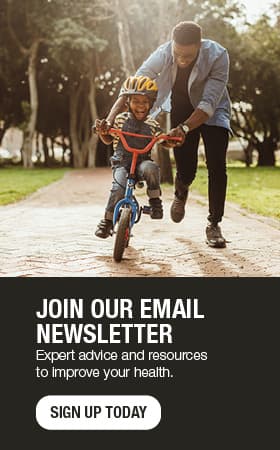 All together now: Broken arm healed with team effort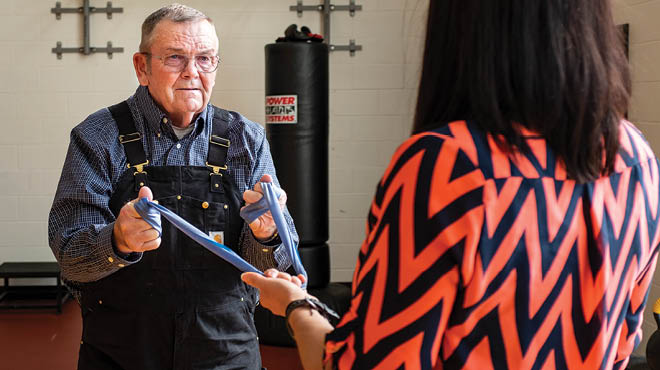 Duane Kostman was planning to fill a bird feeder in his yard one Sunday afternoon last November. It's something he does often. But this time, the peaceful pastime took a painful turn. Duane slipped and fell — hard. "I usually walk on the lawn but took the concrete steps instead," he says. "Once I fell, I couldn't get up."
Fortunately, Duane had his cellphone in his pocket, and used it to call his wife and son for help. They took him to the Emergency Department at Mayo Clinic Health System – Red Cedar in Menomonie, where Duane learned he'd broken his humerus — the long bone located between the elbow and the shoulder. He also learned he'd need surgery to fix it.
"I asked who I should have do the surgery, and one of the nurses recommended Dr. Stewart," Duane says. "She said all he does is operations on the shoulder and arm."
That's Cory Stewart, M.D., an orthopedic surgeon at Mayo Clinic Health System in Eau Claire, who specializes in treating injuries and problems in the upper extremities.
Choosing the right option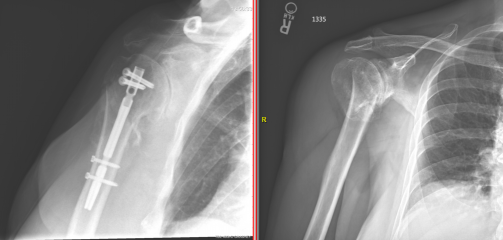 Anterior to posterior (front to back) X-ray showing the displaced proximal humerus fracture at the time of injury (right) and after fracture fixation (left) using an intramedullary nail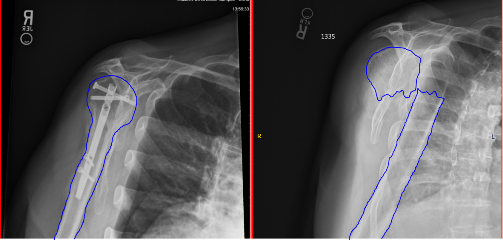 Lateral (side view) X-ray showing complete displacement of the fracture at time of injury (right) and restoration of alignment of the fracture after fixation (left), with the bone outlined in blue for clarity
Dr. Stewart talked with Duane about his treatment options.
"Traditionally, these fractures have been treated using a long plate and many screws placed on the outside of the bone," Dr. Stewart says. "This approach requires a large incision and may disrupt the blood supply to part of the bone, which can lead to complications."
Another option, Dr. Stewart explained, would be to treat the fracture using a humeral nail — a metal nail, or rod, placed inside the bone. The procedure requires a smaller incision and has a lower chance of disrupting the blood supply. Patients generally recover more quickly and with less pain.
While the humeral nail procedure isn't an option for every patient, it was a good fit for Duane.
"I didn't have much pain after surgery," says Duane, who was able to go home the same day. "They gave me pain pills but I quit taking them after a few days."
Physical therapy is key
Three weeks later, Duane had a follow-up appointment with Dr. Stewart. His arm was healing well, so Dr. Stewart recommended physical therapy to ensure Duane would regain as much movement and function as possible in his arm.
"A good outcome after surgery depends on many factors," Dr. Stewart says. "You need to do the right procedure and do it well, but equally important or even more important is the work the patient puts in, both on his own and with a physical therapist."
Duane attended physical therapy twice each week for three months at Mayo Clinic Health System in Menomonie, working with physical therapist Rebecca Behrens.
Dr. Stewart says exercises designed to stretch and strengthen the muscles in Duane's arm were key to his recovery. "Duane's outcome speaks to his work ethic and drive, and his desire to get back to where he was before his injury," Dr. Stewart says.
Team approach to care
Today, Duane is doing well and happy with the progress he's making. He says he's grateful to the team of providers who have helped him move forward.
Dr. Stewart says that team is his department's greatest strength. "We have a cohesive unit that works extremely well together to get the best possible outcomes for our patients," Dr. Stewart says. "Everyone that works here cares deeply about our patients and feels personally invested in their continued improvement."
Dr. Stewart says seeing that improvement firsthand in patients like Duane is one of the most rewarding parts of his job.
"Being able to help someone after a severe injury is a very gratifying thing for me," Dr. Stewart says. "It keeps me going, and it drives me to continue to find new and innovative ways to improve the lives of my patients."