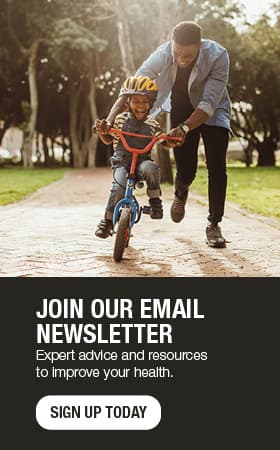 Mayo Clinic Diet helps couple shed pounds, health issues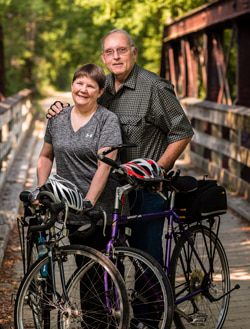 "We knew we should get some weight off, but it didn't hit us until we started having health problems," recalled Sheryl Grace, 61, as she sat next to her husband Carley Grambo, 64, of Menomonie,Wis.
Those health problems began with Carley. In 2009, he began feeling so drowsy that he could not stay awake during a conversation. Numerous hospital visits later, his doctor was able to give him a diagnosis: congestive heart failure. The problem was quickly resolved by implanting a defibrillator and pacemaker at Mayo Clinic Health System in Eau Claire.
However, as Carley finally became healthy, Sheryl began experiencing difficulty with asthma. She began to use a rescue inhaler regularly, was tired at the end of work and found it difficult to walk quickly.
In their youth, the couple had not been this way. They had tried to stay active by biking regularly and participating in pledge rides. Sheryl even quit smoking to improve her health, but she turned to food to curb her cigarette cravings. The habit made her gain weight.
Carrie Nelson, M.D. at Mayo Clinic Health System – Red Cedar, had been giving them weight-loss options for years.
"We just thought we could do it ourselves using diet books and eating smaller portions and healthier foods," said Sheryl. "But then Dr. Carrie Nelson said something that struck home. She told me 'The extra fat is hampering your lungs from working. If you lose even 10 pounds, you could breathe better.' Just 10 pounds!"
At that point, Sheryl weighed 186 pounds and Carley weighed 327 pounds.
Sheryl heard about the Mayo Clinic Diet Class in January 2013. Signing up was their first step.
The class covered various topics and provided useful tips that are usually scattered across the Internet and throughout diet books:
Adopting Healthy Habits: Sheryl works second shift Monday through Friday. After work, it was normal for her to stop at a fast food restaurant for a quick—but unhealthy—meal. Now, Sheryl has replaced that habit with a new one: exercising at the gym. "My crew leader at work asked if anybody wanted to join the gym," said Sheryl. "Now, there are three of us who go together after work. We don't have any 'school rules,' and last time, we tried hula hooping. It was fun!"
Modifying Portions: The Mayo Clinic Diet focuses on portion control rather than counting calories. Carley is the chef of the house, so he has started using measuring cups when cooking meals. This helps him create healthy foods without overeating.
Rediscovering Foods: "During this class, I realized I can eat and enjoy eating while losing weight!" said Sheryl. By rediscovering healthier foods, she can still have her afternoon snack and "treat" herself. There's one difference: the type of food. Instead of purchasing an unhealthy snack from the vending machine, she enjoys snacks like a bag of sweat peas. Likewise, her daily treat has become a handful of almonds. On special occasions, Sheryl and Carley will even have some of their old favorites. "We still get fast food as a treat," said Sheryl, "but not every other night like we were doing before."
Balancing Finances: "Many people say that it costs more to eat healthy, but our grocery bills are the same now as they were before. It's just where we are spending our money that has changed," said Sheryl. Sheryl and Carley have been buying fewer expensive meat products, and instead, they spend that money on fruits and vegetables.
Shopping Smart to Create a Healthier Kitchen: The decisions that Sheryl and Carley make in the grocery store help them eat healthier at home. By taking the time to read the food labels in the grocery store, they avoid buying impulse foods. At home, they avoid leaving food out on the counters or table. This reduces their temptation to eat when they are not hungry and helps them to make eating its own event.
Graphing Your Progress: The Mayo Clinic Diet class required Sheryl and Carley to graph their weight loss from their first day to the end of the 10-week class. The class instructor Rhonda Jenson explained that this helps people not lose sight of the big picture. Most people who lose weight have weeks or months when they plateau and do not lose any pounds. By graphing his weight, Carley has remained positive through several plateaus.
By incorporating these lessons from the Mayo Clinic Diet into their lives, Sheryl and Carley are succeeding at their ultimate goal of losing weight.
Carley weighed 295 pounds at the end of the 10-week class—a 31 pound difference from day one. He had also started biking again. At first, he could only bike a few miles and had to use low gears to get over small hills. Now, 30 weeks after starting the class, Carley can bike 16 miles in a day and conquer those same small hills on his bike's higher gears. He has lost a total of 56 pounds and gone down four pants sizes.
This exercise, healthy diet and weight loss have also helped keep Carley's heart healthy. He goes to his heart specialist for yearly check-ups, and all the tests have been normal.
Sheryl has also succeeded at losing weight and pursuing an active lifestyle. She lost 21 pounds by the end of the 10-week class, making her 165 pounds. She has also started running.
"I could never run before," said Sheryl, but now she has run/walked five races, plans to do three more and has an even bigger goal: to complete a half marathon. She has been steadily improving her race times and is regularly winning medals in her age division.
But the benefits do not stop there. Sheryl has also experienced improvements in her health. Not only is she able to run races and go to the gym after work, her asthma has improved.
"Before the Mayo Clinic Diet class, I used my rescue inhaler a couple times per day, but now I am not using it at all, except as a preventative medicine before things like races," Sheryl said. "That has been life changing. We thought we knew how to lose weight, but the Mayo Clinic Diet class had good advice."
Sheryl went beyond the 10 pounds her provider encouraged her to lose. She has now lost a total of 32 pounds in 30 weeks and weighs 154 pounds.
"This is the most successful we have been at losing weight since we got married," said Sheryl. "The Mayo Clinic Diet class is something that works."
The 10-week Mayo Clinic Diet class is available to the public. For more information and starting dates, visit mayoclinichealthsystem.org or call 715-838-6731.