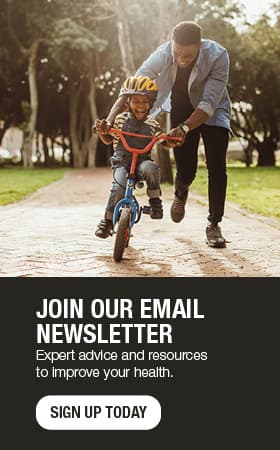 Little changes, big results: Couple sheds pounds — and health problems — together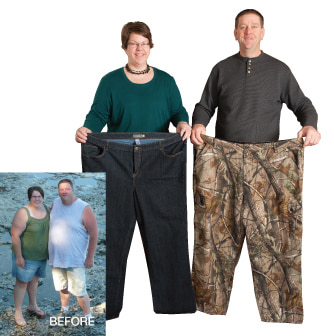 Dan Rinehart of Le Center, Minn., had been overweight his whole life. And it was making him sick and tired.
"I had high blood pressure, high cholesterol and type 2 diabetes," says Dan, who took medication to control all three. "And I was tired all the time."
In the fall of 2012, Dan's doctor, Daniel Stahl, M.D., a family physician at Mayo Clinic Health System in Waseca, advised that he'd soon need to use insulin to control his blood sugar.
"I didn't want to be giving myself shots every day," says Dan. He knew losing weight could improve his diabetes control, and decided to look into bariatric surgery. His wife, Kelli, who'd also struggled with her weight, decided to join him.
A little more than a year later, they've lost nearly 250 pounds combined. But they never had surgery. Instead, they changed their diet and exercise habits.
"Before you can be approved for bariatric surgery, you have to meet with a dietitian," says Dan. He and Kelli met with Grace Fjeldberg, a registered dietitian at Mayo Clinic Health System in Mankato.
"I'd met with dietitians before, but Grace was different," says Dan. "We were successful because she made it so easy."
At their first meeting, Fjeldberg encouraged the couple to focus on just two things — the calories and serving sizes of the foods they ate.
The couple began reading food labels and tracking what they ate on a smartphone app. Within a month, Dan lost 20 pounds. The next month, he lost another 15.
Kelli was losing weight, too.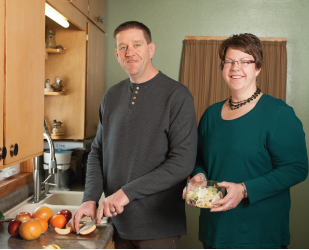 "To actually see the weight come off felt great," she says.
The couple agrees that they didn't change what they ate — just how much they ate.
"The key has been portion control," says Kelli. "We eat more veggies now and smaller portions of meat. We still treat ourselves. We go out one night a week and have whatever we want without worrying about calories."
Fjeldberg says that's a healthy approach.
"The key to long-term health and well-being is to continually improve eating and exercise patterns in a realistic manner," she says. "Dan and Kelli have figured out patterns that work for them."
That includes regular trips to the gym for cardio and weightlifting sessions.
"I used to hate to work out, but now I get mad if I don't go," says Dan.
The new habits have led to big changes for the Rineharts. Dan is sleeping well again. Kelli, formerly a dedicated napper, hasn't taken a nap in almost a year. They've both lowered their cholesterol, and Dan no longer takes diabetes or blood pressure medication. Both say they feel better than they have in years.
"I can do things so much easier and have so much more energy," says Kelli. "But the best part is knowing that we're healthy.