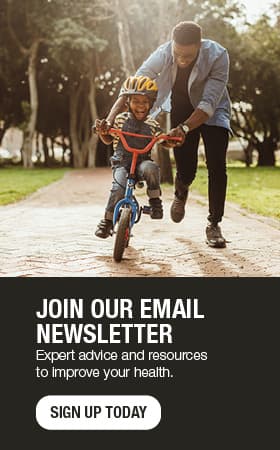 Kurt Hoffman back outdoors, thanks to prostate treatment
Kurt Hoffman, 62, is an outdoorsman and a family man. He likes to hunt, fish, ride his snowmobile and go boating. He and his wife, Christine Hoffman, raised their two children on a 20-acre property near Park Rapids, Minnesota, which is about four hours north of his hometown of Mankato, Minnesota.
Beginning in November 2020, he found himself not enjoying the outdoors as much because benign prostatic hyperplasia symptoms were interfering with his sleep and making him feel uncomfortable.
"I just couldn't seem to completely empty my bladder. I was getting up three or four times a night to use the bathroom," says Kurt.
Benign prostatic hyperplasia, also known as BPH or an enlarged prostate, is a common condition as men get older. An enlarged prostate gland can cause painful urinary symptoms, such as blocking the flow of urine out of the bladder, inability to completely empty the bladder and weak urine stream.
That winter, Kurt's symptoms worsened and caused him significant pain. Eventually, he needed a catheter to empty his bladder and struggled with ongoing infections.
"It was damn challenging," he says. "I was worried that I wasn't going to be able to walk my daughter down the aisle that summer."
Kurt made an appointment with a urologist in Fargo, North Dakota, who confirmed his symptoms were due to benign prostatic hyperplasia and ruled out prostate cancer.
Based on a personal recommendation, Kurt knew where he wanted to get treatment: Mayo Clinic Health System in Mankato with urologist Derek Gearman, M.D. He scheduled an appointment in late April 2021 and requested that his test results from Fargo be sent to Mankato.
Dr. Gearman frequently can review previous tests when meeting patients for the first time, especially those who travel a long distance like Kurt.
"Often, patients will come to me for a second opinion or are seeking certain treatments. Usually, I can utilize previously performed tests, such as cystoscopy, ultrasound sizing of the prostate, MRI and lab work to inform and confirm the treatment strategy is correct for them," he says. "This additional workup rarely needs to be repeated. This helps expedite patients' care and allows them to have surgery much quicker."
After meeting Kurt and reviewing his test results, Dr. Gearman recommended a minimally invasive procedure called holmium laser enucleation of the prostate, or HoLEP. He is one of a few urologists in Minnesota who performs the procedure.
HoLEP uses a specialized scope and laser to remove tissue that is blocking urinary flow through the urethra. The tissue is excised in two or three pieces that can be easily removed through the urethra.
Unlike similar prostate surgical procedures, HoLEP does not require abdominal incisions or a hospital stay. The result is a faster recovery and quick symptom relief.
"HoLEP is the Swiss Army knife of BPH procedures. It can be used in a number of circumstances," says Dr. Gearman. "It is a size-independent option. Men with large or small prostates can have the same benefits from the procedure. We can even do this procedure if the patient is on anticoagulation medication. And it is safe to perform on men who had previously failed BPH procedures."
On a Monday in May 2021, Kurt arrived at the hospital for his HoLEP procedure.
"I went in for the procedure at 2:30 and was back on the couch watching TV by 6:30 p.m. that day," Kurt recalls. "Right away, things started getting better."
Kurt recovered at a family member's home for a few days. He was comfortable enough to go home on Thursday and returned to his job as a parts department manager by Friday. Soon his symptoms were gone completely. So in true outdoorsman style, Kurt was out on Lake Winnibigoshish for Minnesota's fishing opening weekend just 13 days after his procedure.
"I'm totally back to normal. I sleep all night long and don't have to get up to use the bathroom," he says. "It changed my life. It's been absolutely wonderful."
Dr. Gearman says that Kurt's results are normal after the HoLEP procedure.
"This is a very typical response and is what our patients expect," says Dr. Gearman. "Mr. Hoffman felt that his postoperative recovery went well, including very limited bleeding and leakage. He now is fully continent, can control his urine and has a strong stream."
One month later, Kurt performed what he says was the toughest job of his life when he walked his daughter down the aisle at her wedding. This was a role he was worried wouldn't happen until he met Dr. Gearman and his team.
"Everyone from the nurses to anesthesiologists made me feel comfortable," he says. "This group of people are exceptional. The entire process was flawless and fantastic. I've referred several friends to them."
The care team is humbled by his endorsement.
"We appreciate Mr. Hoffman putting his faith and trust in us. I believe he received world-class care in our smaller community-based hospital," says Dr. Gearman. "From outpatient nursing to surgical personnel, it takes a very large team to deliver this care. Mr. Hoffman's experiences are a credit to those working in the Urology and across the hospital."