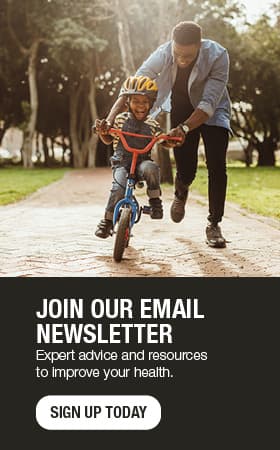 'I give cancer nothing': Mike's journey
Each morning, Mike Seykora starts the day by watering the dozens of flower pots and hanging baskets that keep his backyard awash in color all summer long. Later, he'll take his beloved yellow lab, Lucy, for a walk down an abandoned road near his home in Owatonna, Minnesota. When he gets back, he may start work on a new project: coaxing a bowl out of wood with a lathe.
And if it's a Thursday, Mike, 63, will head to the Cancer Center at Mayo Clinic Health System in Albert Lea, where he's receiving treatment for stage IV esophageal cancer. It's an appointment he'd never miss, as he is fiercely committed to treatment. But he won't let it interfere with the watering, the walking or any other part of his life.
"I give cancer nothing," Mike says. "Cancer takes a day; I take two."
It's an attitude that has impressed his care team.
"It's remarkable to see how Mr. Seykora has handled his diagnosis, with all the ups and downs," says Mina Hanna, M.D., Mike's oncologist. "He's positive and realistic — planning ahead while living in the moment. He's a very strong person, a very positive person. He is an inspiration."
THE PATH TO DIAGNOSIS
In spring 2016, Mike had begun vomiting after eating. "It didn't make any difference what I ate," he says. "I'd take three or four bites and throw everything back up." His primary care provider, Michael Schoeneman, M.D., a family medicine physician at Mayo Clinic Health System in Owatonna, referred Mike to Mayo Clinic's Rochester campus for testing.
On May 11, 2016 — Mike's 39th wedding anniversary — he learned he had cancer. "It was like getting kicked by an elephant," Mike says of the news. "What a gift to give my wife."
The next three weeks were a blur of tests and appointments as Mike's care team worked to learn about his cancer and develop a treatment plan. Once the results were in, doctors prescribed both radiation and chemotherapy.
A MODEL CANCER PATIENT
Since radiation isn't available in Owatonna, Mike would need to travel to Rochester or Albert Lea for treatment. He chose Albert Lea. "It's easier," he says. "I don't have to fight a parking ramp and a million people in Rochester."
Amber Johnson, a patient care associate in the Cancer Center, says there are other benefits, as well.
"Receiving treatments in a smaller facility means Mike gets to see the same nursing staff and develop a comfort level with them," Amber says. "We see our patients frequently, so we get to know them and their families. We are a tight-knit group and become close with our patients."
That includes Dr. Hanna — the captain of Mike's care team.
"He's such a wonderful character," Mike says. "I couldn't ask for anyone better. I can't say enough about everyone at the Cancer Center. They treat me so well and make me feel like they are looking forward to the day I come."
It's not just a feeling. Staff say seeing Mike is one of the highlights of their week.
"Mike is why I love my job as an oncology nurse," says Kellie Peterson, who is a supervisor of the Cancer Center. "He makes me feel like more than a part of his care team. He makes me feel like a trusted friend."
He also helps Kellie remember what truly matters. "Patients like Mike help me to appreciate and respect life while enjoying those people close to me," she says. "I admire his strength and how he keeps a sense of humor."
Kellie's colleague, Sally Strom, who is a nurse in the Cancer Center, has been on the receiving end of that humor numerous times. One in particular stands out. After learning Sally was afraid of bats, Mike brought rubber bats to his next appointment and hid them where she'd be sure to find them. "He seemed to love the anticipation of just sitting there and waiting for her to find one of the rubber bats," Kellie says.
There were no hard feelings when she did. "There's so much laughter when we see Mike coming down the hall," Sally says. "He always makes you wonder what sort of trick he has up his sleeve for the day. He's a great role model as a cancer patient. We look forward to him coming in each and every time."
CHALLENGES AND PERSPECTIVE
While Mike is able to receive the bulk of his care in Albert Lea, he also has benefited from the Cancer Center's close collaboration with Mayo Clinic. A year after his diagnosis, Mike needed an esophagectomy. He turned to specialists in Rochester for that procedure, which involves removing part of esophagus and reconstructing it using part of another organ, usually the stomach.
"It was a hard surgery," Mike says. "I laid in the hospital for 16 days. I went seven weeks without even a sip of water. Afterward, it took me five weeks before I was able to walk half a block down the street."
Not long after, imaging scans reveled tumors on Mike's liver. Then doctors found the cancer had spread to his lymph nodes and near his spine, as well. That meant more appointments, tests and chemotherapy.
While the treatment has attacked the cancer, it's also left Mike with troubling side effects. He sometimes gets lightheaded, especially if he bends over. He's also developed neuropathy — a type of nerve damage that has left him with a pins-and-needles sensation in his hands and feet.
In spite of his diagnosis and the difficulties of treatment, Mike doesn't complain or feel sorry for himself. Instead, he worries about others facing similar battles.
"You go to waiting rooms, and you see young people," he says. "The girls should be doing their makeup and hair, and the boys should be chasing the girls. The little kids should be playing. I don't like seeing young kids sick. Don't be sorry for me. I've had one hell of a firecracker life."
Beside him through it all has been his wife, Sandy. "She's the best caregiver anyone could ask for," Mike says. She accompanies him to appointments, and according to Sally, "Only Sandy can make Mike 'shape up.' She is such an angel."
Dr. Hanna says Sandy and Mike are "a wonderful team. They complete each other in a very special way. It's lovely to see them work together."
The couple are a team outside the medical center as well. They've run a business, raised two sons and now are enjoying their four grandchildren together. Seykora plans to keep doing just that.
"I refuse to give cancer anything," he says. "It's going to take from you, so you have to take back."
His care team will be with him every step of the way.
"It is a privilege and an honor to be involved with Mr. Seykora's care," Dr. Hanna says. "There's a lot we can learn from him."