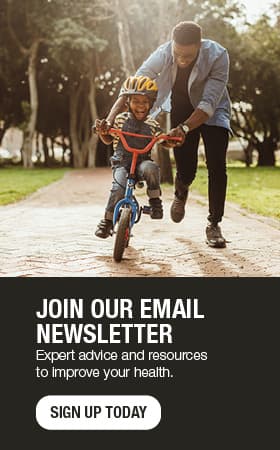 Cancer survivor advises men to get checked for testicular cancer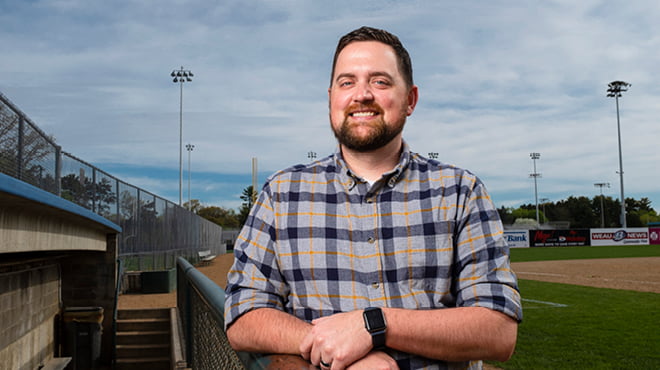 Steve Larson, 35, an active and healthy father of three from Eau Claire, Wisconsin, was digging out from a snowstorm last year when he later began developing symptoms of what he thought was a hernia. The pain subsided, so he didn't immediately get it evaluated, but when the discomfort in his groin area returned, he knew it was time to see a doctor.
"Getting checked out for a hernia is how it started, the pain associated with that," says Steve, who works in customer service and support at Jamf. "They did some scans. I met with the urologist, who suspected that it was not a hernia, and that's when they saw a mass on one of my testicles."
That mass — roughly the size of a large grape — turned out to be cancerous and sent Steve on a journey he never saw coming. He exercised regularly. He didn't smoke. He had no family history of cancer. The news simply stunned him.
"I was definitely very shocked and surprised at first. No one expects that," he says. "But what was comforting was the confidence that my care staff had from the beginning."
Steve remembers his team informing him of his diagnosis — stage 2 testicular cancer — in a calm, pragmatic manner and stating the facts. One of those facts stuck with him.
"If you want to be diagnosed with cancer, this is what you want to be diagnosed with because of survivability. It's basically always treatable," he recalls them saying.
A HIGHLY TREATABLE CANCER
Sandeep Basu, M.D., a hematologist-oncologist at Mayo Clinic Health System in Eau Claire, confirms testicular cancer is a highly treatable and, in many cases, curable cancer. He points to professional cyclist Lance Armstrong and Olympic figure skater Scott Hamilton as two well-known examples of young, healthy men who are testicular cancer survivors.
Dr. Basu recalls Steve as being positive and upbeat from the beginning, and he applauds his attitude and outlook on the situation.
"Having a cancer diagnosis kind of shakes a person's world, but he took it in stride," Dr. Basu says. "He was very matter of fact and never let it get to him."
Shortly after his diagnosis last May, Steve underwent his first surgery, which involved removing the testicle where the mass was hiding. In July, he had a second surgery called retroperitoneal lymph node dissection, or RPLND, to remove nearby at-risk lymph nodes.
"A lot of the common cancers, certainly testicular cancer, can move," Dr. Basu says. "It may start out in the testicle but then travel through the lymphatic channels to the lymph nodes and lymph glands, and these are mainly in the abdomen. In RPLND surgery, we basically go in and clean out all the potentially affected lymph nodes from the abdominal cavity."
Dr. Basu likens this surgery to weeding a garden.
"The first thing we want to do is go ahead and pull it out. That's what the surgery does," he says. "But then even after the weed's out, we want to make sure none of the spores from the dandelion plant have floated off in the breeze and landed elsewhere in the garden. Oftentimes, we don't know if that's happened, but we want to make sure and we like to do 'preventive spraying.' That's what chemo is. We're trying to do a little clean out of the whole body in case there are any hidden cells."
CURED AND CONFIDENT
Following his second surgery, Steve underwent nine weeks of chemotherapy and is now considered cured.
"I'm doing really well," Steve says. "There are a few lingering side effects that are normal. They'll hopefully sort themselves out over the course of the next six months, but my hair's back, my beard's back and I'm doing good."
He says he's forever thankful to his medical team for their excellent care.
"Through the whole journey, it was always a posture of not if you're going to be cured, but how are we going to cure you?" he says. "It was a very confident and positive outlook from day one. My faith and friends were also a source of strength and peace along the way."
Steve's equally positive attitude prompted his medical team to select him as a featured patient at the "Home Run for Life" event at the July 12 Eau Claire Express game. Steve, who says he's honored to have been selected, also views it as an opportunity to raise awareness for other men in his demographic to listen to their bodies.
"It's OK to go see your doctor," he says. "Don't be a tough guy. Get it checked out."
Dr. Basu agrees.
"A lot of times men maybe try to blow it off or are a little bashful about certain parts of the body, but the thing of it is to do exactly what he did," he says. "If there is any doubt, seek out some kind of medical attention. This is one of those cancers where timely intervention makes a difference between cured versus not."