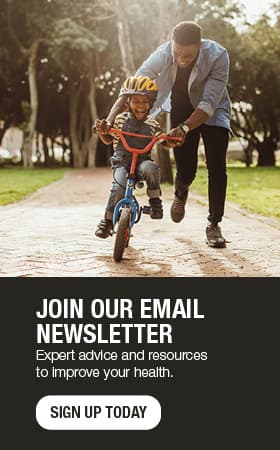 Fertility care close to home makes dreams of baby come true
Ever since she can remember, Marissa Merrill says she dreamed of being a mom, even though she knew it likely would mean a long and complicated journey.
Marissa was diagnosed with a type of polycystic ovarian syndrome when she was 13. The condition raises testosterone levels and affects menstrual cycles; but, more importantly for her, it would make conceiving children difficult.
"Although I was nowhere near ready for children when I was diagnosed, I probably thought more about pregnancy than most girls my age," Marissa says. "The possibility of not being able to have children was always there."
When she met her future husband, Eric, during her first year in college, they eventually talked about the future.
"He had no worries," she says. "He was sure we would get pregnant, but I don't think he fully understood exactly what was wrong."
A few years later, Marissa and Eric were married, living in Faribault, Minnesota, and ready to start a family. Knowing the challenges they were up against, they took an "if it happens, it happens; but if not, it's OK" attitude.
However, with the prospect of becoming pregnant — or not — very real, Marissa says she grew more anxious. "I was scared," she says. "The idea of trying to have a baby and not being able to was very daunting."
Marissa credits Eric's continued positive attitude with helping get her through uncertain times. "He just never doubted that we would get pregnant," she says.
CARE CLOSE TO HOME
Despite her husband's optimism, after three years of trying to conceive, Marissa says she knew it was time to seek expert medical support.
After researching providers, she chose Kristina Rauenhorst, M.D., an OB-GYN at Mayo Clinic Health System in Faribault.
"I was worried she would make us wait another year before intervening, says Marissa. "But after reviewing my history, she knew I was going to have a difficult time getting pregnant, so she worked with us to come up with a plan."
Dr. Rauenhorst, who is a mom of five, says supporting women like Marissa through some of the most exciting — and emotional — times of their lives, is a privilege.
"Wanting to start or grow a family looks different for everyone," Dr. Rauenhorst says. "Being able to establish a relationship with families, partner with them on their journey, and provide hope for couples like Marissa and Eric is incredibly special."
Marissa says she credits having a treatment plan based on her unique needs and goals, as well being able to access high-quality care so close to home, for making a difficult time easier.
---
"My dream came true, and we couldn't be happier." — Marissa Merrill
---
After six months and several appointments, Marissa says she had a gut feeling she should take a pregnancy test. "Though it was a really faint line on the stick, it was positive," she says.
When she shared the news with Eric, she says he was excited, shocked and skeptical. She says he also thought the line on the test looked faded and encouraged her to take another pregnancy test.
"It was positive again, so I was able to tell my husband, that yes, he was going to be a dad." It was Father's Day weekend.
A DREAM COME TRUE
In February 2016, the dream of motherhood came true when Marissa gave birth to a healthy baby they named Grace.
Today, Marissa says Grace is a happy, active toddler. On a typical morning, Marissa wakes Grace up, has a tickle fest with her and goes for a walk before going to work. "Grace always brings me her shoes because she loves to be outside," she says.
Marissa and Eric are mindful of their pregnancy journey and say that because of the extraordinary care they received, they are open to the possibility of Grace becoming a big sister. In the meantime, they make a point to enjoy every day with their daughter.
"Fortunately, I didn't have to go as far into the infertility journey as others," Marissa says. "I was concerned for years that I wouldn't be able to have children or that I'd have to wait 10 years or more before I could become a mom. But my dream came true, and we couldn't be happier."