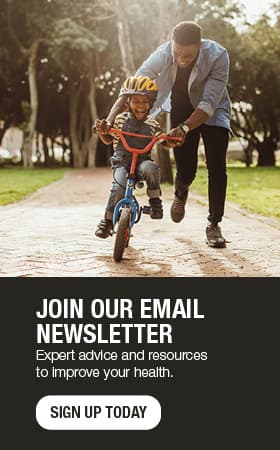 Back on track after heart bypass surgery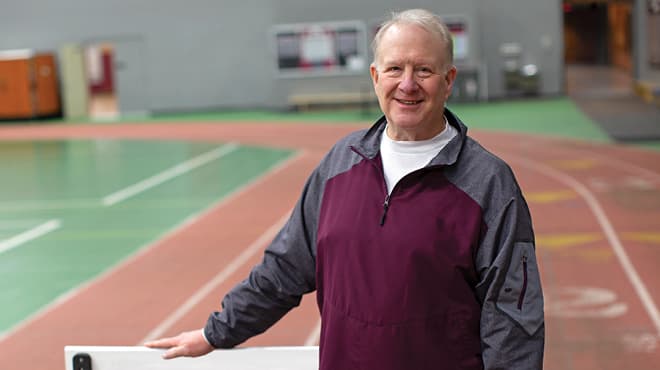 Mark Guthrie knows how to build a team. The longtime collegiate track and field coach has helped guide dozens of teams to divisional and national titles. He's earned a few titles himself along the way, including Division III National Coach of the Year a whopping eight times.
So Guthrie had some experience to draw on when he needed to assemble another kind of team last year after a routine physical with Jacob Erickson, D.O., at Mayo Clinic Health System in Onalaska, pointed toward a problem with his heart.
"I had a quick EKG as part of my physical, and they told me they thought they saw something," Guthrie says. "They asked me how I felt. I'd just laid nine yards of mulch. I felt great."
Even so, Guthrie scheduled a stress test to check how his heart worked during physical activity. "I failed after six minutes," he says. That led to another test: a coronary angiogram, which uses X-rays to check the flow of blood in heart vessels. The test revealed he had coronary artery disease.
"Two of my arteries had 80 percent blockage, and two had 40 percent blockage," Guthrie says, a fact he attributes to his less-than-heart-healthy diet.
"I'd had blood work done with my physical, and my blood sugar was around 400 and my A1C was around 12," Guthrie jokes. "I was pretty proud. Those were big numbers."
But he knew the truth was no laughing matter. The results revealed he had diabetes, which greatly increases the risk of developing heart problems.
CUTTING-EDGE CARE
Guthrie met with Tahir Tak, M.D., Ph.D., a cardiologist at Mayo Clinic Health System in La Crosse, to discuss his treatment options. He could have an angioplasty, which is a minimally invasive procedure performed through a small incision to place stents to open his blocked arteries, or bypass surgery, which is an open-heart procedure that redirects blood around the blocked arteries. Because Guthrie had four blocked arteries, Dr. Tak recommended bypass surgery over angioplasty.
"In the long term, the best way to treat this was bypass," Guthrie says. "So I decided to go the full monty."
Because open-heart surgery isn't performed in La Crosse, Guthrie had another decision to make: whether to have the procedure at Mayo Clinic's Rochester campus or at Mayo Clinic Health System in Eau Claire. "Dr. Tak had recommended Dr. Wiechmann in Eau Claire, and I was able to get in there sooner than Rochester," Guthrie says. A meeting with Robert Wiechmann, M.D., a cardiovascular surgeon, sealed the deal. "I liked him right away," Guthrie says. "I liked his personality and his temperament. He was knowledgeable and put me at ease."
During the operation, Dr. Wiechmann and his team used arteries from Guthrie's chest wall and arm to create bypasses around the blocked arteries in his heart. The procedure was completed without ever stopping Guthrie's heart — a process known as off-pump bypass that lowers the risks associated with bypass surgery, including stroke, infection and memory problems after surgery. Only 5 percent of hospitals in the U.S. offer off-pump bypass, but is used in 98 percent of the procedures at Mayo Clinic Health System in Eau Claire.
CAPABABLE, CARING HANDS
After a short hospital stay, Guthrie was able to return home. "My care in the hospital was outstanding," he says. "Going in, I felt confident in the Mayo name. I was never worried about the outcome. I knew I was in capable, caring hands."
Those caring hands continued to guide Guthrie during his recovery. He attended 12 weeks of cardiac rehabilitation in La Crosse, where he worked with exercise physiologists to gradually return to his presurgery activity level.
"They kept pushing me to do a little more each day," Guthrie says. "As a coach, that was really comfortable to me."
Less comfortable are the dietary changes he's made as a result of his diabetes diagnosis.
"I can't eat whatever I want anymore," Guthrie says. "They took my corn away, took my chips away. I was drinking way too much soda. Green beans are now my friend."
Though he misses his less healthy "friends," his new eating habits — together with medication — have helped Guthrie bring his blood sugar levels down to a healthy range. And while his diet is different, not much else has changed since Guthrie's diagnosis and surgery.
"I'm back at work, and I feel great," he says. "I feel exactly the way I did before surgery, and I felt good then. I'm pretty doggone happy."
He's also pretty doggone grateful for the team that helped heal his heart and made sure he was able to get to know a new member of his home team.
"I got to meet my newborn grandson, who I would possibly have never met without the great care I received," Guthrie says.
He's also grateful to the teams that touched his heart during his recovery.
"So many of my former athletes reached out to me when they heard what was happening," Guthrie says. "It makes you realize that success is not always about wins and losses. It's the friendships you make along the way."