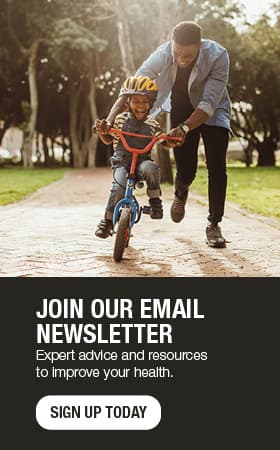 Mayo expertise for baby Ella — just in time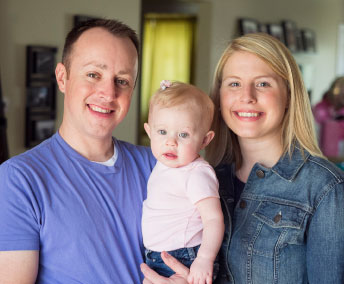 It wasn't completely out of the ordinary when doctors discovered Ella Christman had a heart murmur after she was born in May 2012. It's not uncommon for babies to be born with heart murmurs, caused by small holes between the chambers of their hearts, which typically close on their own in a few days or weeks.
Ella's parents, Elizabeth and Travis Christman, were slightly more concerned when their firstborn still had the murmur a couple of months later.
The situation became more serious when Ella suddenly went into congestive heart failure at 3 months old.
CLUES TO A PROBLEM
Through a collaborative program at Mayo Clinic Health System, Ella was evaluated by a pediatric cardiologist at Mayo Clinic's Rochester campus when she was 2 months old.
"Ella still had the murmur, but she was eating and growing well at that point," says Elizabeth Christman. "Her pediatric cardiologist said to let them know if anything changed."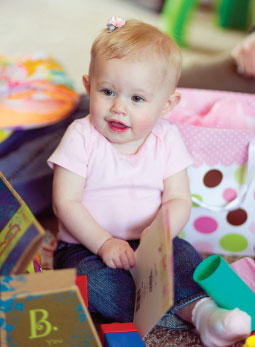 But then, when she wasn't quite 4 months old, Ella's healthy eating began to falter and her weight leveled off. Tests revealed a surprise: She was in congestive heart failure, when the heart can't pump enough blood to meet the body's needs.
ANSWERS AND SOLUTION AT MAYO CLINIC
Ella was transferred that day to Mayo Clinic's Rochester campus, where Patrick O'Leary, M.D., pediatric cardiologist, ordered more tests. The results revealed that Ella had abnormal holes in two spots in her heart.
The defects were significant enough that Ella would need open-heart surgery. Her seven-hour surgery was on Sept. 25, 2012.
"It was emotionally very challenging, of course," says Elizabeth. "I knew the risk when I sent her back for the surgery. There were a lot of tears."
ANOTHER PROBLEM DISCOVERED DURING SURGERY
During surgery, a Mayo Clinic pediatric cardiovascular surgeon discovered another problem — a regurgitating tricuspid valve. This means one of the valves that controls blood flow in Ella's heart was letting blood flow the wrong way. The surgeon repaired the valve during surgery, too.
Overall, Ella did great in surgery, all the repairs were able to be made.
"I don't think I took a good, deep breath until I saw her again," recalls Elizabeth. "She was hooked up to lines and monitoring, but she looked like herself. She was a shining star right off the bat."
After six weeks of recovery, Ella had more energy than ever.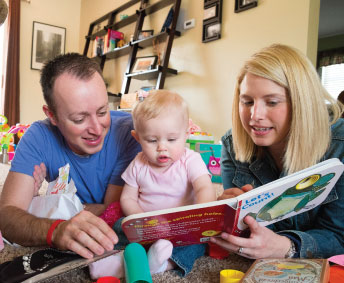 NORMAL, HEALTH TODDLER — AND THANKFUL FAMILY
Today, Ella is babbling and walking.
"She's doing absolutely fabulous," says Elizabeth. "She's a normally developing, super-busy toddler. "
The Christmans appreciated having access to specialty care close to home — and expert Mayo Clinic care just a drive away — when their baby needed it most. Today, Ella has yearly heart checkups with a Mayo Clinic cardiologist in Eau Claire.
"The communication is seamless between Eau Claire and Rochester," says Elizabeth. "Ella has an excellent team watching out for her."
Learn more about and view chambers and the valves of the heart.