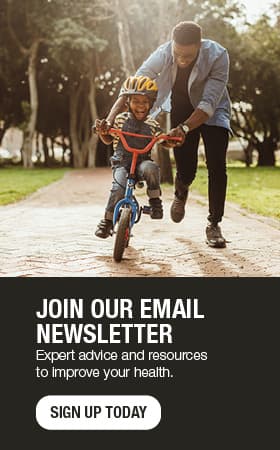 Proton beam therapy changes a Mayo Clinic patient's life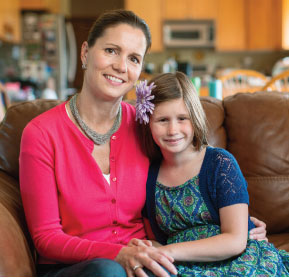 An average kindergartener goes to birthday parties, builds forts and starts learning how to read. But she doesn't plan on getting cancer.
When Anika Chesak was diagnosed with rhabdomyosarcoma -- a type of tumor that wraps itself around soft tissue -- at age 5, the course of her childhood drastically changed.
Dark days
In the fall of 2009, Anika complained of headaches and didn't want to get out of bed, according to her mother, Sherry Chesak, Ph.D., a registered nurse and program director in Education and Professional Development at Mayo Clinic in Rochester, Minnesota.
Anika had seen her family medicine physician at Mayo Clinic Health System – Albert Lea and Austin in Austin, Minnesota, for these symptoms, but Dr. Chesak and her husband noticed that Anika was rapidly losing weight, which concerned them.
"I saw Anika squinting and closing one of her eyes while walking down the hall, and she said she saw two of everything," says Dr. Chesak. Their physician directed them to Mayo Clinic.
A computed tomography (CT) scan indicated a sinus infection, and Anika was placed on antibiotics. But the scan had revealed a questionable spot. An MRI showed a tumor behind Anika's right eye, on her optic nerve.
"That was quite shocking," says Dr. Chesak.
Searching for hope
The inoperable tumor was wrapped around the carotid artery, which supplies blood to the brain. "We thought it was a death sentence," says Dr. Chesak. "There wasn't a lot of hope, and the despair set in."
"I was scared because I saw that my mom was scared," Anika says. "I didn't know what I was going to have to go through."
After the Chesaks met with the pediatric oncologist, they felt more hopeful. They were told that Anika had a good prognosis and would respond well to chemotherapy and radiation.
Changing directions
Dr. Chesak knew the treatment could affect the pituitary gland -- which controls hormone production -- and could potentially stunt Anika's growth. "We started researching immediately," says Dr. Chesak. They found that proton beam therapy could avoid damage to areas surrounding the tumor.
Because proton beam therapy is not yet available at Mayo Clinic, the Chesaks spoke with specialists at the country's four existing proton beam therapy centers. They chose the MD Anderson Cancer Center in Houston, Texas, which could get Anika in the quickest.
Treatment
Mayo Clinic physicians worked with staff at MD Anderson to transition Anika's treatment plan.
Dr. Chesak traveled back and forth from her home in Austin, Minnesota, to Houston, Texas, and relayed Anika's status via Skype to her husband, who was at home caring for their two other children.
"I didn't really know what [the proton beam] was at first," Anika says. "I had never done anything like it before."
Proton beam therapy directs protons -- the positively charged parts of an atom -- onto tumors, and the family noticed progress almost immediately as Anika's right eye opened a little more after each treatment.
Hope restored
Anika has been cancer-free for about four years and has regularly-scheduled MRIs at Mayo Clinic. Dr. Chesak says although Anika lost sight in her right eye, there were no other side effects. She wears glasses to protect her left eye.
"I was happy that I survived cancer and got to see my family again," Anika says.
"We learned quite a bit about faith, and Anika taught us a lot," says Dr. Chesak. "At times, Anika felt down, but she never doubted that she would be healthy one day."
---
Coming soon to Mayo Clinic: Proton Beam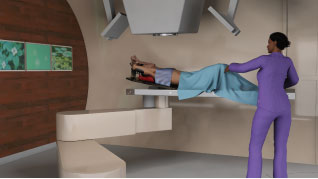 In proton beam therapy, energy comes from protons, the positively charged parts of an atom. Protons are generated by a powerful machine called a particle accelerator. Unlike an X-ray, the proton stops after striking the target. A proton beam can be finely controlled so higher doses of radiation can be more safely delivered to tumors with less risk to
healthy tissues.
Mayo Clinic is launching its Proton Beam Therapy Program with treatment facilities on the Minnesota and Arizona campuses. Mayo Clinic's program will employ the next generation of proton therapy -- intensity-modulated proton beam therapy, using pencil beam scanning, which paints small groups of protons back and forth through a tumor. The precision of pencil beam scanning makes it especially beneficial in treating tumors adjacent to critical and sensitive organs, such as the brain, eye and spinal cord.
Proton beam therapy has proven beneficial in the treatment of many kinds of tumors, including head and neck, eye, central nervous system, lung, sarcomas, gastrointestinal, prostate and many pediatric cancers.
Treatment for patients will be available in the summer of 2015 at Mayo Clinic in Rochester and early 2016 in Arizona.