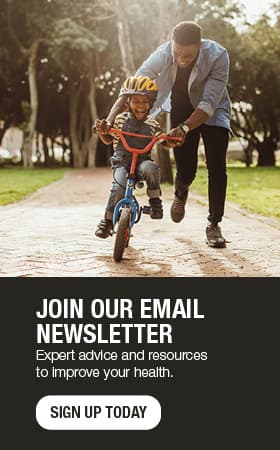 Pacemakers: Past and present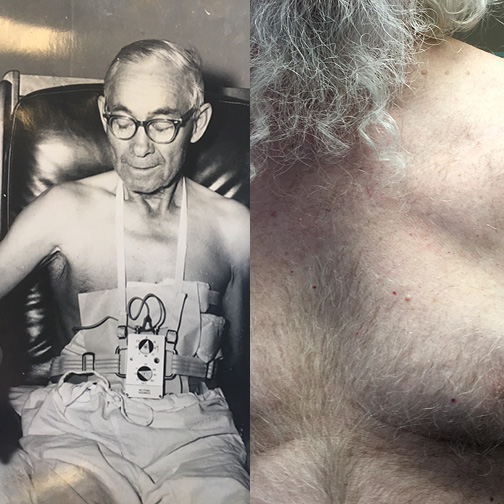 Fred Hintzman, left, was admitted to Luther Hospital in Eau Claire in 1962 and received one of the first pacemakers for his heart condition, which is significantly different to the patient, at right, with a pacemaker post-procedure in 2017.
Pacemakers have evolved over the years by becoming more compact and sophisticated, but they still operate the same way in keeping the heart beating at a regular rate.
In 1962, Fred Hintzman, 70 and then Menomonie resident, was admitted to Luther Hospital in Eau Claire for an extremely low heart rhythm and was treated by John Wishart, M.D., and J.W. Merritt, M.D. At that time, pacemakers were uncommon, and Hintzman was the first person in northern Wisconsin to receive one for his heart condition.
According to the Dunn County News, on Jan. 23, 1963, Hintzman's heart rate "would sometimes drop to eight or nine beats and even occasionally stop." Dr. Wishart stated that Hintzman was the perfect candidate, as only those with a certain type of heart condition could use a pacemaker.
Hintzman required two surgeries. The first surgery implanted and connected leads from his heart to a machine outside of his body to allow the strength and rate of the impulses needed for his heart to get back to a normal rhythm to be set. The second surgery implanted the preset pacemaker into his body.
A pacemaker in the 1960s and 1970s could only be set at one rate, lasted a couple of years using four lithium batteries and did not store diagnostics. The implanted pacemaker in the 1970s was approximately the size of an old-fashioned pocket watch and had one or two wires that connected to the heart.
PACEMAKERS TODAY
Today, a pacemaker uses one to three flexible, insulated wires called leads placed in the chambers of the heart to deliver electrical pulses to adjust heart rate. For most people, one lead is placed in the upper chamber and one is placed in the lower right chamber of the heart. Both connect to a small battery pack located just under the clavicle.
A pacemaker is about the size of three silver dollars stacked together, and the battery lasts six to 10 years based on how often it needs to keep the heart beating at a reasonable rate. It has a microchip that stores information about heart rhythm, and the data can be retrieved by the health care provider to review with the patient, when necessary.
In 1972, Daniel Kincaid, M.D., was the first board-certified cardiologist in Eau Claire and worked at Sacred Heart Hospital and Luther Hospital, now Mayo Clinic Health System, to see patients in the area with heart conditions. He has earned a special place in his patient's hearts for helping maintain a steady beat.
In 1975, he and Mary Hitzke, a registered nurse, helped create the area's first telephone follow-up clinic for patients with pacemakers, allowing patients to have their rhythms checked over the phone to get more immediate results and treatment, if necessary.
MONITORING RESULTS
Remote monitoring units placed in a patient's home offers providers a convenient way to follow heart rhythms. Providers review the data if there are concerns to validate a need to seek medical attention. Monitoring also indicates if the batteries are getting low and allows time for the patient to schedule an appointment to get the battery replaced.
Lots of medicines can slow the heart down, but there still aren't good medicines available to speed the heart back up to a normal rhythm," says Dr. Kincaid. "That is why devices, like pacemakers, are still vital in keeping people alive."
Dr. Kincaid has helped thousands of patients with heart rhythm problems by implanting pacemakers and other heart rhythm devices over the past 45 years. Mayo Clinic Health System's Cardiac Center in Eau Claire follows over 2,000 patients with pacemakers and defibrillators using phone and web-based monitoring.
"Our goal at Mayo Clinic Health System and the Cardiac Center is to help our patients maintain or improve their quality of life by continuing to offer them the safest, most effective options for their heart care," says Dr. Kincaid.