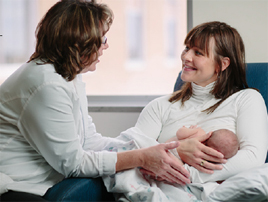 Breastfeeding can be a satisfying way to nourish and nurture your baby. Most women have the physical capacity to provide breast milk for her baby. Optimal benefits for mother and baby are attained if breastfeeding continues through the first year of life. Whatever your breastfeeding goal is, our professionals are available to help.
The providers and nurses who care for you offer a professional, knowledgeable and supportive approach to enhance your breastfeeding experience.
Services
Support and guidance for breastfeeding mothers with premature infants.
Collaboration with International Board Certified Lactation Consultants (IBCLC), Certified Lactation Counselors (CLC) and other health care professionals to address breastfeeding difficulties.
Telephone consultation and support after hospital discharge.
Information on breast pump rentals and breastfeeding accessories.
What specific lactation/breastfeeding concerns should I discuss with my nurses and providers?
Feelings, concerns and expectations about breastfeeding your baby
Positioning and latching technique
Prevention and care of sore nipples
Engorgement
Milk production (too much or too little)
Sucking difficulties
Family involvement (fathers, siblings, grandparents)
Breastfeeding and baby's temperament
Slow weight gain
Jaundiced infants
Feeding twins/triplets
Managing breastfeeding when mother and baby are separated (vacation, employment, school, hospitalization, etc.)
Nutritional considerations during breastfeeding
Breastfeeding your baby with special medical problems
Pumping, storing and transporting milk
Teething
Baby's refusal to breastfeed
Introducing the bottle
Weaning
Outpatient services
We are dedicated to helping you and your family have the best possible breastfeeding experience. Call us for a telephone consultation or to schedule an outpatient appointment.
Related Upcoming Classes and Events View More