Need to make an appointment?
Bariatric Surgery
Attend a Bariatric Surgery Information Session
Bariatric Surgery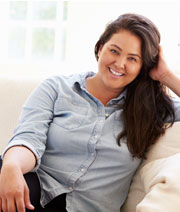 Is your weight running your life and affecting your health? Have you tried every diet under the sun? Bariatric surgery may be your solution for long-term weight loss and improving your overall health. At Mayo Clinic Health System, we know that being overweight isn't about a lack of willpower, and we offer proven, medically-based solutions. Most importantly, we genuinely care about your success.
Through dietary counseling, behavior modification, exercise, support and bariatric surgery, we do more than help reduce the weight of patients' bodies — we help you reinvent yourself!
Learn More
Megan Gilmore, M.D., a bariatric surgeon with Mayo Clinic Health System, speaks about obesity and the benefits and risks of weight loss surgery.
Locations
Campus parking map
Hospital and Clinic
1025 Marsh St., Mankato, MN 56001
Clinic Hours:

Mon-Fri:

7:30 AM - 5:00 PM

Clinic hours subject to change on holidays.
Providers
Related Upcoming Classes and Events View More