Nutrition Services and Clinical Dietetics
Medical Nutrition Therapy Services:
Our team of registered dietitians are committed to providing exceptional patient centered service using evidence-based medical nutrition therapy to meet patients and families diverse biopsychosocial needs.
Many insurance plans will cover medical nutrition therapy if you have a referral from your Provider. Contact your insurance carrier for coverage details.
---
Retail Nutrition Services:
Retail services are available to any patient, employee, or community member; a Provider referral is not needed. Pre-registration is required and payment must be received prior to the service being provided. These services are not billed to insurance.
Mayo Clinic Diet Program

Based on the New York Times bestseller, The Mayo Clinic Diet: Eat well. Enjoy life. Lose weight
A 12-week class providing information on weight loss, nutrition, physical activity, and other healthy lifestyle behaviors
Lead by expert facilitators, including registered dietitians, an exercise physiologist, and a psychology counselor (PhD)
Presented in a group setting to promote an environment of sharing and support
This program has been temporarily suspended and will return in 2021.

Body Composition Analysis

Starting a new health journey? What better way to get started than to mark your beginning and measure your progress along the way.
Whether your goal is to increase muscle mass or reduce body fat, a body composition analysis can show you the details no regular scale can.
Receive information regarding muscle mass and fat percentage in your trunk versus each limb, displayed on a full page colorful printout.
Highly accurate results using a Tanita MC780 Segmental Body Composition Analyzer.
Scheduled as a 15-minute appointment in the La Crosse Clinic.
Fee includes the test, print out, and explanation of results. Nutrition counseling or education is not included.

General Nutrition Visit

Are you looking for general nutrition information or nutrition tips for yourself or a family member? Topics may include:

Meal planning
Nutrient dense snacks
Reading labels
Navigating the grocery store
Getting a 'picky child' to eat
and more!

Note, only general nutrition information will be discussed. If you have a medical diagnosis, please refer to medical nutrition therapy services.
Contact Nutrition Services and Clinical Dietetics at 608-392-9587 for more information or to register for a retail service.


Locations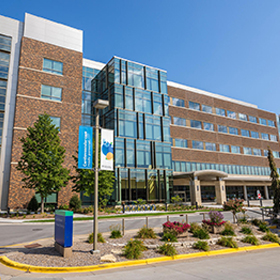 Providers