La Crosse Hospital Construction
Join us on this exciting journey.
New Hospital in La Crosse
Mayo Clinic Health System in Southwest Wisconsin broke ground April 12, 2022, on its largest construction project ever to replace the hospital building on the La Crosse campus.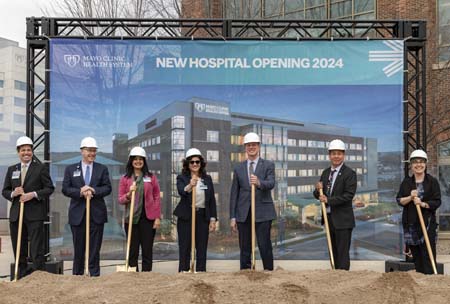 Pictured from left to right: Paul Mueller, M.D., regional vice president; Michael Morrey, regional chair of administration; Prathibha Varkey, M.B.B.S., Mayo Clinic Health System president; Lisa Archer, chief nursing officer; La Crosse Mayor Mitch Reynolds; Ho-Chunk Nation President Marlon WhiteEagle; and Sr. Eileen Mckenzie, Franciscan Sisters of Perpetual Adoration president, participated in the golden shovel ceremony.
The new six-floor, 96-bed facility will include:
Surgical and procedural floor adjacent to and integrated with the current operating rooms, housing pre- and post-surgery recovery rooms
Endoscopy suites
Cardiac catheterization labs and interventional radiology
Medical-surgical units
Flexible ICU and progressive care unit
New family birth center
Shell space for future growth
View a 365-degree sneak peek of the new hospital:
Mayo Clinic Health System continually invests in forward-looking facilities and technologies that equip our staff to bring the best of Mayo Clinic care close to home for our patients and communities. When completed, our hospital will be unparalleled in its use of technology; innovative, efficient design to support our staff; and thoughtful details that enhance the healing environment, and provide convenience, safety and comfort for patients and visitors.
View all our hospital construction videos.
Patient parking during construction
Parking Lot 2 will be closed beginning Monday, April 11, 2023. Patients will be able to park in Lots 3A and 3B, located just north of Jackson Street along 10th Street. Courtesy shuttle services will be available by calling the door attendant at 608-498-1247. Mississippi Street also will be closed to through traffic during construction.
Watch construction updates:
Meet our benefactors
Investing in the health of the community benefits everyone. We could not accomplish our goals without our committed supporters:
FAQ
When will the new hospital open?
The new hospital is expected to open in late 2024.
Will having the new hospital mean there will be fewer transfers to Rochester?
We send only a very small percentage of our patients to Rochester for care. Over the past couple of years, we have added many new specialists and services that enable us to provide most of the care our patients need locally. If we send a patient to Rochester, it is because they need the highly specialized care that can only be provided at the destination medical center. We expect our local services to continue to grow along with the opening of the new hospital.
What will happen to the current hospital and clinic buildings after the new hospital opens?
The current hospital building will continue to be used for a period of time after the new hospital opens as we complete transitioning all services out of the building. The clinic building use will not change.
Will you have enough parking? Will you build another parking ramp?
Yes, recent parking studies have indicated that we have the capacity to meet patient and staff parking needs. There are no plans to build an additional parking ramp.
Will there be parking underneath the new hospital building?
There will not be parking underneath the new hospital building. There will be some additional surface parking for patients immediately south of the new hospital building when construction is complete.
Who is paying for the new building?
The project is funded through Mayo Clinic's capital budget.