Don't let digestive issues control your life.
Gastroenterology & Hepatology (Digestive Care)
Gastroenterology & Hepatology (Digestive Care) in La Crosse
You and your family deserve the best digestive care. That's why our gastroenterologists and digestive experts in La Crosse collaborate every day to give you the benefit of Mayo Clinic care close to home.
Our gastroenterology and hepatology team's commitment to bring you the latest advances in diagnostic tests and procedures helps you remain close to your home and family. We are specialty trained in the prevention, diagnosis and treatment of digestive tract and liver disorders. These include conditions involving the pancreas, liver, gallbladder, esophagus, stomach, small intestine and colon.
We recommend that you contact your primary care provider to discuss your current symptoms and determine if seeing a digestive specialist is right for you. If you are not working with a primary care provider, call us to schedule a consultation with a member of our team.
Resources
Locations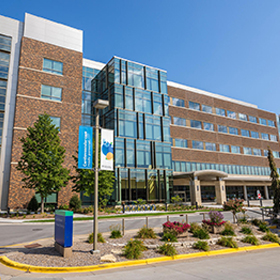 Campus Map (PDF)
Hospital
700 West Ave. S., La Crosse, WI 54601
Hours:

Mon-Fri:

8:00 AM - 5:00 PM