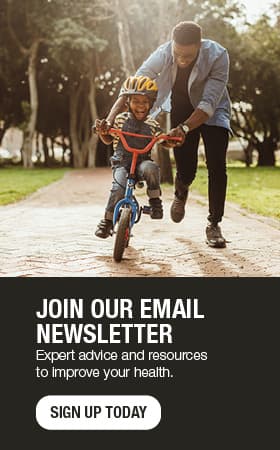 Uterovaginal prolapse — What's that?
There's so much to know about how a woman's body changes. Women talk about periods, breastfeeding, stretch marks, weight gain and hot flashes. But, so often, many of the details of the aging process go undiscussed. Here's a little quiz to check your knowledge when it comes to uterine prolapse.
True or False: Your female organs can shift out of place.
True. Women's organs can shift and slip out of place as they get older. Because of this, women experience issues, such as leaking urine, an urgent need to urinate or a sensation of bulging from the vagina, known as uterovaginal prolapse.
True or False: Prolapse issues happen suddenly.
False. Some women may see their doctor right away with common symptoms, while others choose to wait years before seeing a doctor because they are too embarrassed to ask about urinary incontinence.
Women can have one or a combination of symptoms:
Notice a bulge or pressure "down there"
Must cross their legs before they cough to hold urine in
Leak urine or are unable to push urine out
Need to physically push the bulge in when they urinate so urine can come out
The uterus physically came out of the vagina
True or False: Prolapse is a common issue.
True. Prolapse occurs anywhere between the mid-30s to 100. It is connected to naturally occurring changes in women's bodies, such as childbirth and menopause. However, it is most common after menopause when the body's estrogen levels change, which allows ligaments to stretch and organs to shift. While it may be common, it isn't something women need to simply put up with.
True or False: There is no cure for prolapse.
True. While there is no way to cure prolapse, there are a few ways to treat it. Gynecology, urology and rehabilitation specialists work as a team to resolve these issues.
They present women with the treatment options and allow them to make the decision best fits their needs:
Some women choose to do nothing other than prevent it from getting worse. They avoid certain things, such as heavy lifting and constipation.
Some women get a pessary, which is a silicone device that is inserted into the vagina to help keep everything in place. If inserted correctly, women report that they don't even notice that it is there. Some come into the office to have it removed, cleaned and replaced every three months. Others remove, clean and replace it at home on a weekly basis.
Some women opt to have surgery. The team of specialists will discuss surgical treatment options that are best for each woman.
True or False: Some women just choose to live with prolapse.
True. Often, women come in for a visit with no knowledge of what's going on. Some are scared about their organs dropping down. They think they may have cancer, so they avoid seeing their health care provider. Others think they have to just live with it as an inevitable and embarrassing part of aging. They don't have to be. When they do see their health care provider, their concerns are relieved when they learn that this is a fairly common problem.
True or False: You can prevent prolapse.
True and false. If organs aren't shifting yet, women can do Kegel exercises to strengthen the pelvic floor before things start to slip. If things have already starting shifting, there are some factors that can make things worse. Women who do a lot of heavy lifting, have a chronic cough, are constipated often and are obese are at a greater risk of experiencing prolapse. Kegel exercises won't help put things back in place if prolapse has already begun, but they may help prevent the prolapse from getting worse.
True or False: Treatment can provide relief. True.
There is hope for women who experience prolapse. Here are just a few of the improvements that patients report:
Relief from the feeling of pressure in the vagina
Not leaking urine
Able to drive an hour without stopping several times to urinate
Able to have sexual intercourse
No longer have organs outside of their body
Get back to living again
If you're experiencing prolapse symptoms, see your health care provider to determine what treatment is right for you.
By Mayo Clinic Health System staff