Posted By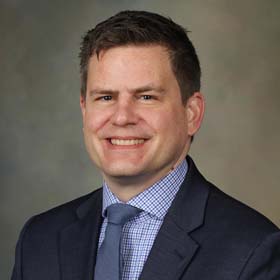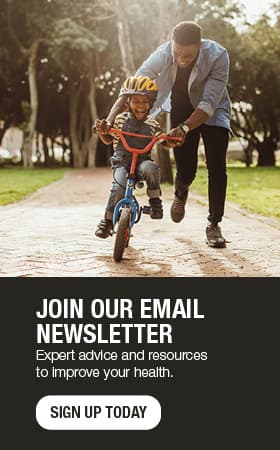 New option for earlier diagnosis, staging of pancreatic cancer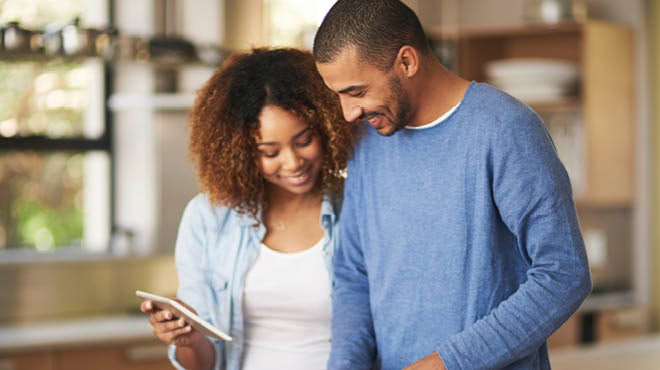 Pancreatic cancer begins in the tissues of your pancreas — an organ in your abdomen that lies behind the lower part of your stomach. Your pancreas releases enzymes that aid digestion and produce hormones that manage your blood sugar.
Pancreatic cancer is hard to find early when it's most curable. That's because it often doesn't cause symptoms until after it has spread to other organs.
Symptoms may include:
Abdominal pain that radiates to your back
Loss of appetite or unintended weight loss
Yellowing of your skin and the whites of your eyes (jaundice)
Light-colored stools
Dark-colored urine
Itchy skin
New diagnosis of diabetes or existing diabetes that's becoming more difficult to control
Blood clots
Fatigue
While pancreatic cancer represents about 3% of all new cancer diagnosed each year, it accounts for about 7% of all cancer deaths. It has one of the lowest five-year survival rates of all cancers.
Endoscopic ultrasound for pancreatic cancer
But it's not all bad news, as the medical community is making advances to improve patients' chances of survival. Health care providers can now use a minimally invasive procedure to better understand the complexity or stage of pancreatic cancer.
Endoscopic ultrasound uses high-frequency sound ways to produce a detailed image of the lining and walls of your digestive tract and nearby organs, including your pancreas.
Previously, this type of advanced imaging only was available at large research-based medical facilities. Now patients have can get this high level of care closer to home, and I believe that expanded access will improve patients' experiences and results.
Endoscopic ultrasound helps health care providers:
Determine the extent, or stage, of cancer, if present.
Obtain tissue samples from the tumor for diagnosis and genetic testing.
Assess how deeply a tumor penetrates your abdominal wall.
Determine if cancer has spread, or metastasized, to your lymph nodes or other organs.
Evaluate abnormal findings from imaging tests, such as cysts of the pancreas.
Permit precise targeting for delivering medication directly into the pancreas.
Using this information, your health care team will determine what treatments are most likely to benefit you. Your treatment may include surgery, radiation or chemotherapy, or a combination of these treatments. These options are more effective when the cancer is discovered early.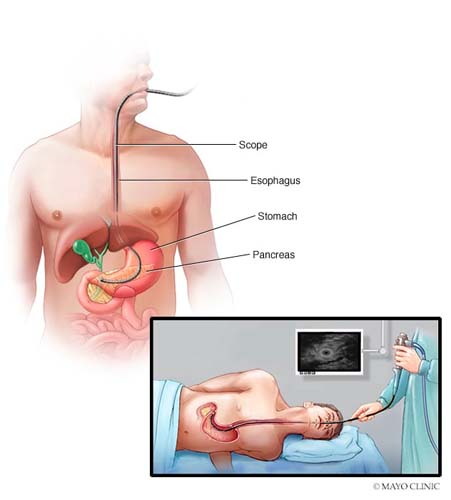 What to expect
During an endoscopic ultrasound procedure, you will be given medicine to help you relax. A gastroenterology physician will pass a thin, flexible tube called an endoscope through your mouth and digestive tract. A small ultrasound device, called a transducer, in the tube produces sound waves that create a precise image of the surrounding tissues. Then the endoscope is gradually withdrawn. Most patients tolerate the procedure well.
Other uses of endoscopic ultrasound
Endoscopic ultrasound also can help evaluate:
Cancer of the colon, esophagus, lung, pancreas, liver or stomach, and ampullary and rectal cancers
Lymphoma
Barrett's esophagus
Neuroendocrine tumors
Pancreatitis and pancreatic cysts
Bile duct stones
Sarcoidosis
Endoscopic ultrasound also can be used for therapy, including drainage of abscesses or cysts, treatment of pain in pancreatic cancer, or to create an access in patients with prior gastric bypass surgery for weight loss.
Sebastian Strobel, M.D., is a gastroenterologist in La Crosse, Wisconsin.