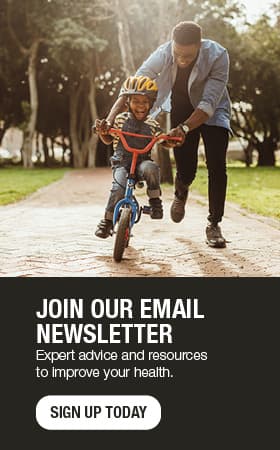 A day in the life of Luna — a facility dog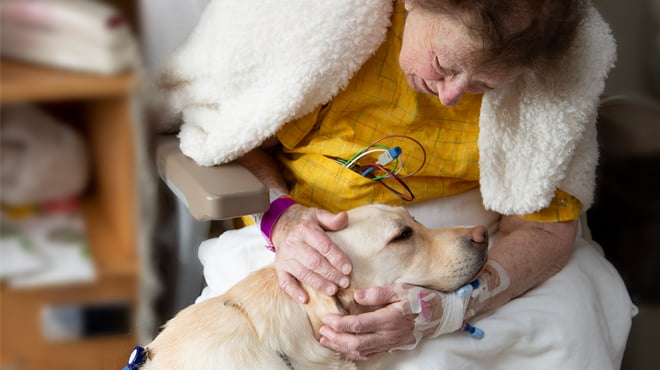 For some people, receiving news of a medical diagnosis can feel overwhelming and frightening. Spending a significant amount of time in and out of the hospital, meeting with physicians and receiving treatments may lead to feelings of disconnection from home. However, therapy and facility dogs at Mayo Clinic Health System help many patients feel more at ease during their visits.
There are two different levels of training that dogs can complete to provide support for patients. Therapy dogs must pass testing criteria to ensure they can behave in various settings, and they often are used for comfort visits with patients. In contrast, a facility dog is a fully trained service dog that completes a two-year advanced training program and responds to over 40 commands. They are consistently reliable in public settings, and can work in environments with many distractions and still maintain focus on their work.
Lunar III, known as Luna, is a full-time facility dog that works at Mayo Clinic Health System in La Crosse, Wisconsin. She also travels to clinics in Onalaska, Sparta and Tomah. Luna graduated from a specialized training program in Ohio. She is a Labrador retriever with light golden fur, warm brown eyes and big floppy ears.
Luna's daily tasks range from carrying a basket of chocolates through the hospital to providing comfort during treatments. She assists patients with exercise, motivation, positive distraction, opening and closing drawers or doors, retrieving items and pulling pediatric patients on scooter boards.
At the start of each day in the clinic, Luna visits patients in Cardiac Rehabilitation. She is assisted by her handler, Lisa Morgan, who is a supervisor in Rehabilitation Services.
"As soon as she walks in the department, it's clear that both patients and staff are friends with Luna," explains Morgan. "The smiles on patients' faces show that they know their canine friend is there to help. Most people call her by name and ask me if they can pet her."
During her next task in Cardiac Rehabilitation, Luna spends time with a patient receiving enhanced external counterpulsation (EECP), a treatment for angina, which is a type of chest pain. The patient has one-hour treatments five times a week for seven weeks. The frequency and duration of the treatments can get lonely and tiresome, but Luna helps ease negative emotions the patient may be feeling by allowing the patient to pet and talk to her.
"Luna is a great comfort to patients receiving EECP treatments," says Morgan. "It can be an uncomfortable process, and she provides much-needed distraction and relief."
Finally, Luna reaches the Cancer Center, where she provides emotional support and a calming presence.
"Patients in the Cancer Center may have just received upsetting news or may be receiving treatment, but Luna's presence seems to improve their spirits," says Morgan. "They smile when Luna places her head on their lap, and they share stories about the pets they have at home."
Similar to her time in Cardiac Rehabilitation, her presence provides comfort and distraction during uncomfortable medical treatments.
"Whether patients and staff know Luna or have just met her for the first time, it's obvious that she brings light to any room she enters," says Morgan. "She knows how to make patients' experiences at Mayo Clinic Health System even more extraordinary."
Learn more about pet therapy:
Watch this video to see volunteers in action, including a pet therapy handler, and learn more about opportunities at Mayo Clinic Health System: