We are experiencing high call volumes:
Use your account on the Mayo Clinic app or patient portal to check symptoms, get care recommendations and make an appointment.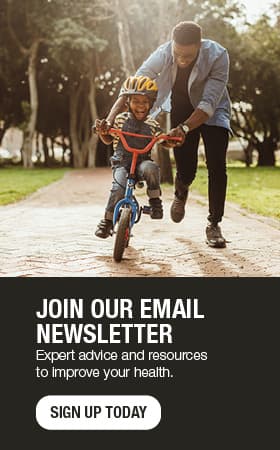 A day in the life of a child life specialist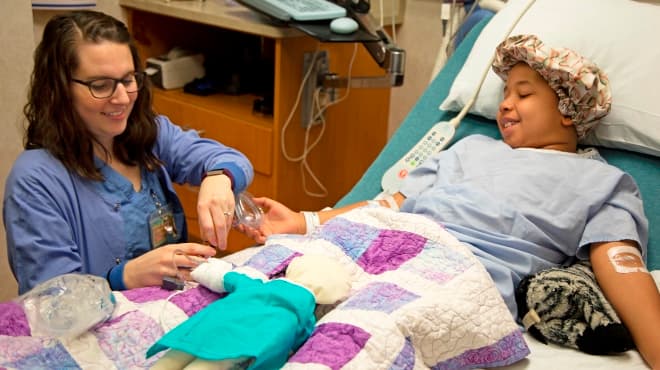 For children, a visit to the hospital can be a terrifying experience. Haley Bate, child life specialist at Mayo Clinic Health System – Franciscan Healthcare in La Crosse, Wisconsin, helps the child and his or her family make this experience more relaxing. Through therapeutic play, age-appropriate education and preparation, and expressive activities to reduce fear, anxiety and pain, Haley helps the them adjust to and cope with the environment and many events that happen during a visit to the hospital.
Haley works with patients and their families in the Surgery Department at the Sparta and La Crosse campuses, as well as procedural areas and inpatient in La Crosse. She works the typical 40 hours per week, but her schedule revolves around seeing patients.
As the first patient arrives for the day, sometimes as early as 6:30 a.m., Haley introduces herself to the child and his or her family. While the nurse, anesthesiologist, surgeon and other health care providers already have introduced themselves, Haley's introduction is a bit different. She wants to be a familiar and comforting face to the child before and after they undergo surgery or testing.
Haley has learned that emotions children feel during a visit to the hospital vary. While one child may be calm and unfazed, another may be anxious and fearful. She has to use different approaches to support different children. Haley usually can tell shortly after meeting the child how best to support them. If the child is calm, she can provide toys and other activities to keep them occupied. If the child seems fearful, Haley will play with the child while they are waiting for the surgery or test and sometimes uses donated tie blankets to provide comfort. To ensure there are no surprises, she can show patients images of the operating rooms on her tablet.
While they are waiting, Haley also explains the processes that will be involved during this particular child's surgery or test. If the child will receive anesthesia, she sometimes brings with a similar mask that will deliver the anesthetic. The child can try the mask on if they wish. Children sometimes are fearful during the anesthesia process, and need someone to comfort and support them. She works closely with the anesthesia team and often supports the child until the anesthetics are fully administered. If the child will need an IV for the operation, Haley brings an IV without a needle to show the child. This helps the child become comfortable ahead of time with some of the equipment that will be used.
After the child is in surgery or done with testing, Haley follows up with the family. This is a crucial part of her job, because surgery can be just as scary for the family as it is for the child. She can put worries at ease and talk about how the child coped during the anesthesia induction.
When surgery is complete and the child is in the recovery room, Haley helps staff assess the child's needs or gives them some information from when she met with them prior to surgery. She encourages parents to be present during this time and often will bring parents to recovery, preparing them on the way for what to expect when their child wakes up. Children often are confused and emotional, which can be distressing for parents if they don't expect it. When they are finished in the recovery room, the child returns to the room in which they began. If she has a few moments in between patients, she'll stop in to provide praise for how the child did that day. At this point, the kids usually are eating and walking around. She likes to see them feeling better before they go home.
While Haley is not working with a child and their family, she is in meetings, working on projects and presentations, and taking part in staff education.
---
For the safety of our patients, staff and visitors, Mayo Clinic has strict masking policies in place. Anyone shown without a mask was either recorded prior to COVID-19 or recorded in a non-patient care area where social distancing and other safety protocols were followed.
Topics in this Post