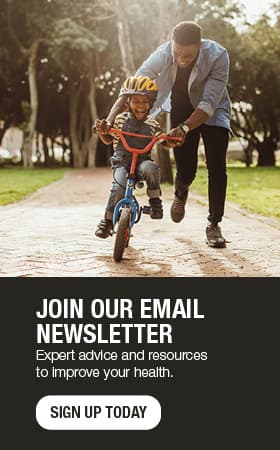 4 steps for back pain relief
Back pain is a common ailment for many adults. According to the National Institutes of Health, 8 out of 10 adults experience pain in their back at some point in their lives.
Signs and symptoms of back pain may include:
Muscle ache
Shooting or stabbing pain
Pain that radiates down your leg
Limited flexibility or range of motion of the back
Back pain can come on suddenly, last less than six weeks and be due to improper posture or heavy lifting. If your back pain is sudden onset and not from a recent injury, there are four simple steps you can take to help with the pain:
Apply heat for 20 minutes to the affected area; alternate with ice if necessary.
Continue to be active in your daily routine, and go for light walks.
Do yoga stretches, such as the cow and cat poses, twice daily. Hold each pose for five seconds; repeat 12 times.
Seek help from a health care provider if the pain continues or worsens, especially if the pain radiates into your legs.
Watch this video about tips for back pain relief:
By Mayo Clinic Health System staff