We are experiencing high call volumes:
Use your account on the Mayo Clinic app or patient portal to check symptoms, get care recommendations and make an appointment.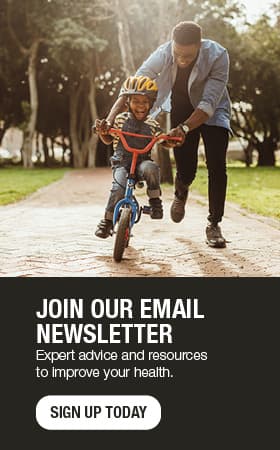 Woman fights colon cancer by staying strong in body and spirit
Since her diagnosis of Stage IV colon cancer in 2010, Beth Berhow has had three surgeries, three rounds of chemotherapy and many positron emission tomography (PET) scans. She's also celebrated three birthdays and the birth of her granddaughter, Olive, whom Berhow says is "magical."
"So much of the cancer journey made me feel helpless," says Berhow. "I realized I had to take back some control. I couldn't cure myself, but I could do something about the strength of my body and spirit. So I walk, work out, do yoga and eat healthy. And I surround myself with happy, positive people who support me."
That support system includes Berhow's family, friends and her oncology team, John A. Laurie, M.D., an oncologist in Albert Lea and Austin, J. Fernando Quevedo, M.D., an oncologist in Rochester, and Lillian (Lilly) M. Sorenson, an infusion nurse in Austin.
Colonoscopies matter
Berhow had no symptoms when she was diagnosed with cancer. It was discovered during her first routine colonoscopy, which is key. If detected early, cancer cells may only be in the colon. If the cancer is detected later, the cells may have entered the lymph and blood systems and spread to organs, as Berhow's did.
Patients with colon cancer receive intravenous treatments every two weeks in Rochester or Austin and also take a portable infusion pump home for 48 hours between treatments. "Beth is a great example of someone who benefited from the combination of specialized treatments at Mayo and routine chemotherapy treatments at home," says Dr. Laurie.
Berhow struggled with the effects of treatment. "I kept thinking how backward it was that the treatments made me feel worse than the cancer did," says Berhow, who had chemotherapy at the infusion center in Austin and has her portacath — a port installed under the skin that allows drugs to be injected via a portable infusion pump, and blood samples to be drawn — flushed there. "I wouldn't have made it through without the team there, and especially Lilly. She knew when I needed encouragement or just needed someone to listen," says Berhow. "Because of her, I did not dread chemo."
In the infusion center in Austin, "we know all of our patients. We're with them when they have chemotherapy, and if they return for other services, we're here for them," says Sorenson.
The infusion centers in Albert Lea, Austin and Rochester follow the same protocols and use the same computer documentation program for orders, so patients may receive treatments at all three sites.
"Being able to receive treatments close to home is convenient and less stressful for patients, especially if they're not feeling up to par," says Dr. Laurie.
Pluck and resilience matter, too
Berhow is not currently cancer-free. "There is another round of chemo in my future, but the cancer doesn't warrant treatment yet. In the meantime, I strive to keep my mind and body strong. The cancer is something I will live with, and deal with. It doesn't scare me quite as much anymore."
---
For the safety of our patients, staff and visitors, Mayo Clinic has strict masking policies in place. Anyone shown without a mask was either recorded prior to COVID-19 or recorded in a non-patient care area where social distancing and other safety protocols were followed.
Topics in this Post